Story-Go: Is there any time to tell and listen to stories? Maybe it would have happened. Or would it not happen. But one thing definitely happens. Tales, stories are interesting to everyone. It would be better if they were present on time. If it is not, it is of the past, even then it is not bad. Because they always go not only by telling us something, but also by teaching. Brings back memories of our times. Even after sweetening the spices of the serious ones, they drink it softly. That's why 'Dastaan-Go' has started, the process of bringing interesting stories to your loved ones. Will try to continue this process. Monday to Friday, everyday…
,
Sir, The famous poet Nida Fazli has a poem, 'Every man has ten-twenty men, whoever wants to see it many times'. Although this poem points towards some other issue related to life. Nevertheless, if we want to talk about Kamal Haasan, the great actor of Hindustani films, if he wants to know and understand something, then it fits perfectly there too. Because as soon as we come to know about Kamal Haasan sahib, this thought will remain in the mind that having this type of personality is not a matter of any one man's control. For this, it would have taken the ability of ten-twenty men in fact. Rather it seems. Otherwise, it is rare to find someone in a century, in whom so many things can be found. And in truth, Kamal Haasan sahib is rare, in many ways. Perhaps that is why he is called the 'First Complete Actor' of Hindustani Cinema.
And it is said so, it is not just like that. There is evidence and examples for this. For example- Kamal Haasan is probably the only actor who does films in six languages ​​simultaneously. And he himself knows all the languages ​​- Hindi, Tamil, Telugu, Kannada, Malayalam and Bengali. He is well versed in pure classical dances like Bharatnatyam, Kuchipudi. They are also known to try new things in dance postures and dance forms. Since he was just 18 years old, he has also been writing the story of films. The stories he has written so far in this capacity have become immortal in the film world, it is said. So far seven of his films have been nominated for Oscars. That is, for that award which is said to be the biggest in the world of films. And if we talk about the performance, not one or two, 18 times Kamal Haasan has got the Filmfare Award for his performance.
Now look at some examples of his films and the experience done in them. For example- 'Dashavataram', which came in the year 2008. Kamal Haasan sahib has appeared in 10 different characters in this. This was probably the first experience in Indian cinema that Kamal Haasan sahib went through. Such feats are called 'out of the box achievement' in English language. And Kamal Haasan's account is full of such 'out-of-the-box' achievements. For example- he has a film, 'Pushpak Viman' (1987). Kannada film. But since it is 'Aboli', it was seen all over India in the name of 'Pushpak' without canceling-o-change. It is called the 'First Color Aboli (Silent) Film' of the film world. Consider, this feat was done in the era of talking films. And if you want to see his performance in Hindi films, then there is 'Sadma', which came in 1983.
Apart from this, there are many films like 'Ek Duje Ke Liye', 'Sagar', 'Auntie 420', which give samples of Kamal Haasan's Salahiyat-e-Adkari. And this sample is also not of today. is born. It is said that when Kamal Haasan sahib was only four or six years old, perhaps only then he got the President's Gold Medal for his performance in his film 'Kalathur Kannamma'. This is it, 1960's. With this performance, if anyone wants to see Kamal Haasan's grip in dance forms, then the year 2003 film 'Ambe Shivam' is for him. There is also a sample of his dance in 2001's 'Alavandhan'. And also in the Hindi film 'Ek Duje Ke Liye'. In these films, such samples of his dance will be seen that even those who watch it, even those who specialize in dance will be stunned once in a while. Then if you want to see the samples of the stories written by them, then they are also present in abundance.
The 2000 film 'Hey Ram' is a great example of Kamal Haasan's writing. Apart from this, the stories of all the films like 'Veerumandi', 'Mahanadi', 'Vishwaroopam' and 'Dashavatharam' have come out from his pen. But the matter does not stop here either. Kamal Haasan is also known for using new techniques in his films. For example, in 1996, one of his films came 'Indian'. In this, Kamal Haasan has played the role of 'Senapati', who has participated in the freedom struggle of India. In this, for the first time, prosthetic make-up technique was used to make Kamal Haasan's face look like the same old man. Similarly, the digital format that is talked about a lot nowadays, it is said that Kamal Haasan sahib had done it for the first time in films. In the movie 'Mumbai Express' (2005).
His two films 'Veerumandi' and 'Vishwaroopam' have different experiences related to sound technology. Anyone who is interested can understand. And the interesting thing is that in general, the Indian film world, which seems to be blessed that it always imitates the West, Kamal Haasan sahib sets a different example in the same. His film 'Alavandhan' also shows a new path to Hollywood people. That too in terms of technology. This was believed by Hollywood filmmaker Kentin Tarantino himself. In 2003, Tarantino made a film called 'Kill Bill'. According to him, he had taken inspiration from 'Alavandhan' for this in terms of technology. Not only this, Kamal Haasan's 1987 film 'Nayakan' (1987) was included in the list of 100 top-class films made by the famous magazine 'Time' till now.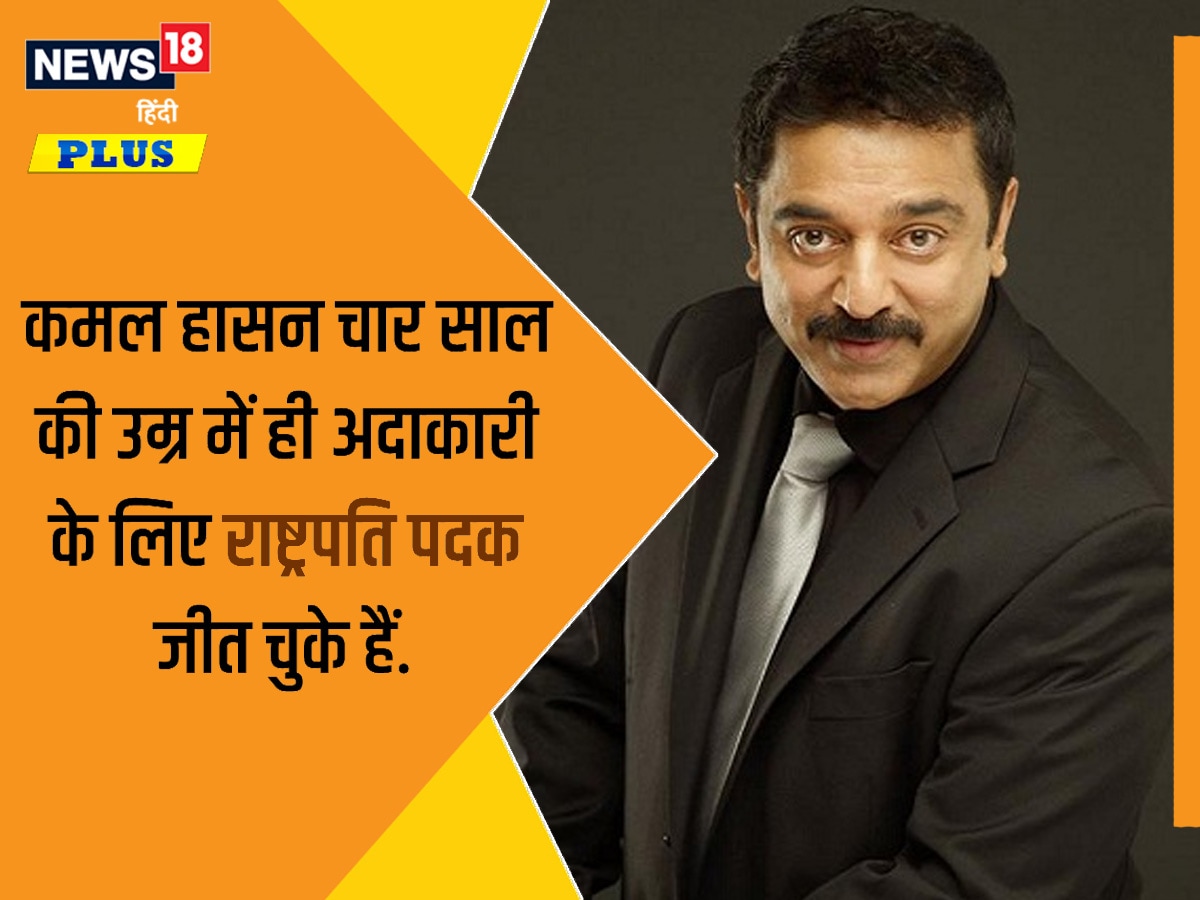 Meaning, there is hardly any such aspect left in the world of films, where Kamal Haasan sahib has not left his mark. Perhaps, this is the reason why he started getting one crore rupees for a film in 1994 itself. That is, in those times when even Amitabh Bachchan might not have been getting this much fee. Talking about social service after films, his name is ahead in that too. Kamal Haasan sahib, despite having a divergent view, promotes Prime Minister Narendra Modi's 'Swachh Bharat Abhiyan'. He has a water welfare organization. Through this, they provide financial help to the needy children for medical studies. So far, arrangements have been made for eye donation for more than 10,000 people. Not only this, he has also announced to donate the body to Madras Medical College after his death. Meaning even here they can be called 'complete'.
But when Kamal Haasan sahib enters politics, he looks 'incomplete'. In the year 2018, he enters the politics of that South (Tamil Nadu), where film stars are worshiped like gods in politics. MG Ramachandran, NT Rama Rao, J Jayalalithaa are memorable examples of this. But in the same area, the coin of 'Complete Kamal Haasan' does not work in politics. Why? Maybe they can explain the reason for this better. But it is said that his daughters had stopped him, to enter politics. But they did not agree. Well, when it comes to daughters, there should be some family talk too. It has been in special headlines about Kamal Haasan that both his daughters were married before his marriage to actress Sarika. Then he married Sarika only for the sake of daughters. And also wait for 17 years to come out of this marriage.
Yes sir, Kamal Haasan himself had revealed during an interview that when his marriage with Sarika would have ended. But this separation should not affect the daughters' childhood, their childhood should not be taken away from them, so they and Sarika continued to run this marriage. And a similar issue was also in the case of his first marriage, which ended in 10 years. He first married Vani Ganapati, an actress from the South. Similarly, apart from the past life, his thinking about God also makes many people angry. Because, even about the above, their thoughts are found to be different from others. But leave it man, what is the difference with all these things. Anyway, even in a person who is called perfect, something remains incomplete on one aspect or the other. Otherwise, the servants of God should not become God himself.
That's all for today. God Hafiz.
Be the first to read breaking news in Hindi News18 Hindi| Today's latest news, live news updates, read the most reliable Hindi news website News18 Hindi|
Tags: birth anniversary, Hindi news, Kamal Haasan, News18 Hindi Originals
FIRST PUBLISHED : November 07, 2022, 08:24 IST