Story-Go: Is there any time to tell and listen to stories? Maybe it would have happened. Or would it not happen. But one thing definitely happens. Tales, stories are interesting to everyone. It would be better if they were present on time. If it is not, it is of the past, even then it is not bad. Because they always go not only by telling us something, but also by teaching. Brings back memories of our times. Even after sweetening the spices of the serious ones, they drink it softly. That's why 'Dastaan-Go' has started, the process of bringing interesting stories to your loved ones. Will try to continue this process. Monday to Friday, everyday…
,
Sir, Hear the story first. It was about a year and a half before the making of 'Alam-Ara' picture. I went to see a movie at the Excelsior Theater with some friends. There was a 'show boat'. It was created by American filmmaker Harry A. Pollard. It is a romantic drama and about 40 percent talking. At the same time, seeing that film, a thought came to my mind that why shouldn't we try to make 100 percent speaking films in India. However, none of us here had any idea how it would all turn out. Nevertheless, we decided to move on. At that time there was a playwright in Bombay, Joseph David. He used to play a play named 'Alam-Ara'. Taking the story of that play, we made this first talkie film of India. The difficulties were many, but once I decided that I have to do it, then I did not back down.
When the story was completed, I wrote its script myself. Dialogues were written in Hindi and Urdu. After this the actors were to be selected. So I wanted to cast Ruby Myers, who people know as Sulochana, as the heroine in it. But she could not speak Hindi and Urdu properly. So Zubeida was taken. This made Ruby very upset. He did not act in films for the next one year. Learned to speak Hindi, Urdu first. Prithviraj (Kapoor) was made a villain in it. And my choice for hero was Mehboob Khan. The same, who became a famous producer, director. But those who knew me told me that one is 'new kind of experience. Talking film. Hero new from above. How much risk will you take brother?'. Then I also felt that yes, it is true to some extent. So, Master Vitthal was taken. for the hero. A well-known name of Aboli films.
'However, even Master Vithal did not find it easy to come here with us. He was earlier in contract with Saradhi Studios. Earlier it used to be like this. All the fans used to live in contract with some studio or film company. From there he used to get remuneration in the form of salary. Payment was not made for each film. So, the people of Saradhi studio sued Master Vitthal that he broke the contract. However, in the court, on his behalf, the famous lawyer Mohammad Ali Jinnah argued that the decision came in his favor. So, this is how Master Vitthal came with us. Then, the matter came from where did the cameras come for the shooting of the film. Also, where is the shooting, it was also an issue. Back then, there were no soundproof studios. But at least get a good studio.
'So, in all this we had to get the cameras and other equipment from America. While our search for the location came to an end at Jyoti Studios. But there was a big problem. The studio was next to the railway track. Every minute some train would pass from there. A new problem arose. We broke it in such a way that most of the shooting was done during the night. That's when the shooting would have started at one o'clock. The work would have been completed by four in the morning. Till this time the railway track was almost deserted. There was only one camera. The film was shot from that. like a play. For the sound in it, the microphone had to be placed around the stage in such a way that it was away from the camera. Did not appear in the recording. Adi M. Irani holds the sheet behind the camera. Me and me along with Rustam Bharucha saw the work of sound recording.
When American expert Wilford Deming came to Bombay to assemble a sound recording machine for us, Bharucha and I learned a little from him. He had charged Rs 100 for this. That was a big amount for us. So didn't learn much. His further services were also not taken. Did this work myself. But it was very difficult. Because when the shooting was taking place, at the same time sound recording had to be done. This technique is called 'Tanar'. It took a lot of time. Correct recording could not be done at once. In this affair, it took us about four months to make this picture. Whereas it used to take us a month at most to complete the film Aboli. Well, we had also put songs in this film. But there was no Musiqar i.e. the music director was with us.
Behind the scenes, the harmonium and tabla were seated near the stage. And the mike which was kept hidden somewhere, the singer used to give his voice on it. And the amazing thing is that the entire songs of this film became a hit. One in particular became a huge hit, 'De De Khuda Ke Naam Pe Pyare'. The story related to this is interesting. This song has been sung by Mohammad Wazir Khan. Call him the first singer of Hindi films. We have also made him play a fakir in the film. But do you know who he really was? He was the watchman. He had a loud voice. That's why he took him in the role of a fakir. But, most of the other songs were sung by Zubeida. She sang well His songs also went well. The film also went well. On the 14th of March, when this picture came out in the year 1931, people could not get tickets for it for weeks.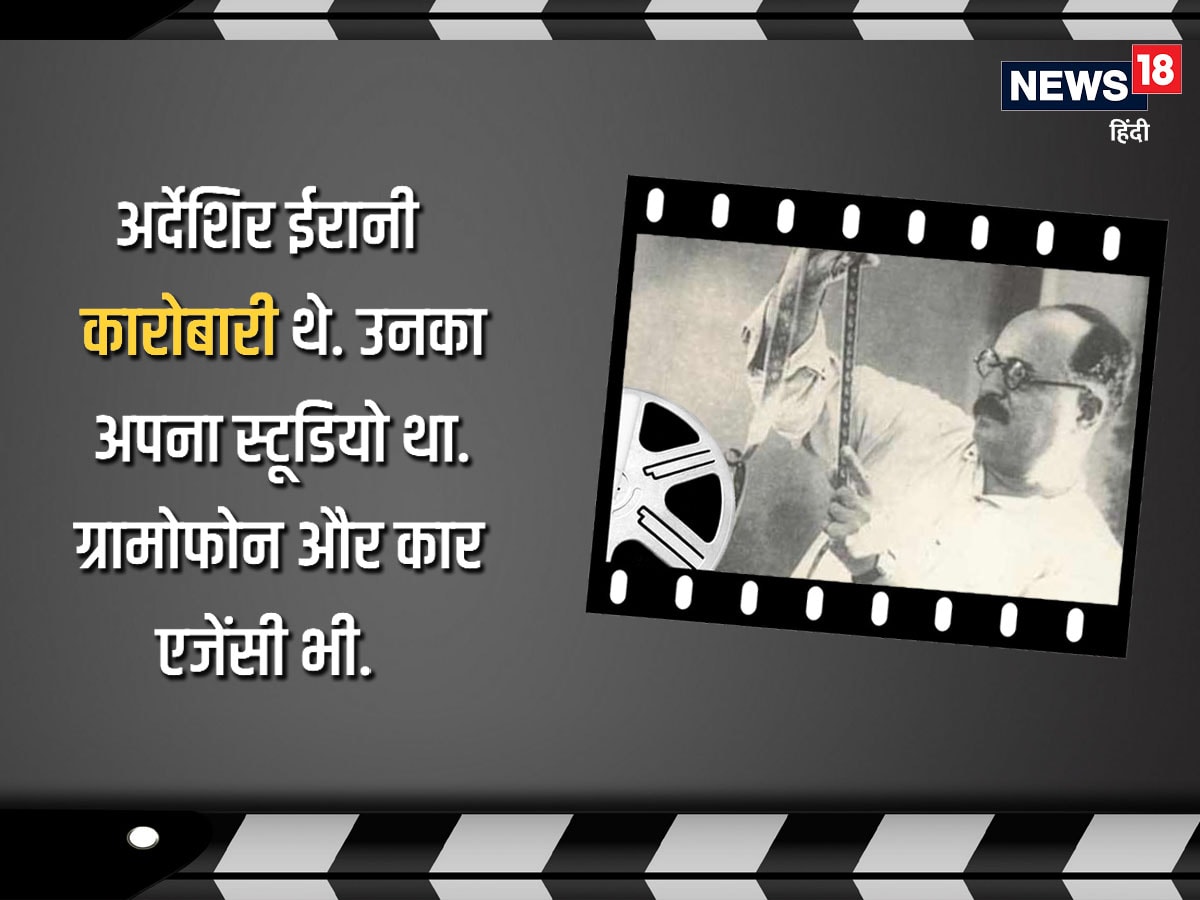 'And yes, I forgot to mention one thing. We used to have a big businessman in Bombay then. Seth Bhagwan Das Dubey. We had taken Rs 40,000 from him for this picture. However, till we have not made the whole picture, except a select few, no one was allowed to know that we are making a talkie film. The first was experience, so precaution was necessary.
So sir, this was the story of India's first talkie film 'Alam-Ara'. And it was narrated by the person himself, who had accomplished this feat. That is, Ardeshir Irani, who died today on 14 October, in the year 1969. Irani sahib used to write the stories of films. He also produced and directed them. He made films in languages ​​like Hindi, Urdu, Tamil, Telugu, English, German, Persian, Indonesian. In Aboli films, he also handled the camera. This work is called cinematography in English language. Not only this, like the first talkie film, he further experimented with making colorful pictures. His 'Kisan Kanya' (1937) is said to be the first color film of India. That is, it was Irani sahib who, along with giving words to the films, also started coloring them.
From this point of view, after Dadasaheb Phalke, who is called the 'Pitamah of Hindustani Cinema', Irani sahib is seen standing on the next rung. And not only in films, Irani sahib was also a successful businessman of his time. He had his own film company, 'Imperial Films'. Gramophone Agency. Apart from this, he was also the owner of a car agency. He once gave an interview to Bhagwan Das Garg, who made documentary films. In it, many things were done in detail. Then it was also told how 'Alam-Ara' was made. What obstacles came in his way? What happened, etc. His interview has been posted on a website named as Garg Sahib since 1980. From there and with the help of information available from other similar trusted places, the story of today's story has been built. Especially for movie buffs. And also for those who are interested in the date, the character etc.
Be the first to read breaking news in Hindi News18 Hindi| Today's latest news, live news updates, read the most reliable Hindi news website News18 Hindi|
Tags: death anniversary special, Hindi news, News18 Hindi Originals
FIRST PUBLISHED : October 14, 2022, 07:07 IST