tale-go Is there any time to tell stories and listen? Maybe it would have happened. Or would it not happen. But one thing definitely happens. Tales, stories are interesting to everyone. It would be better if they were present on time. If it is not, it is of the past, even then it is not bad. Because they always go not only by telling us something, but also by teaching. Brings back memories of our times. Even after sweetening the spices of the serious ones, they drink it softly. That's why 'Dastaan-Go' has started, the process of bringing interesting stories to your loved ones. Will try to continue this process. Monday to Friday, everyday…
,
Sir, Many things are said and heard about the famous Musikar (musician) of Hindi films Sachin Dev Burman i.e. SD Burman. For example- they were so 'stingy' that when someone came home, they did not even ask him for food and drink. Rather they used to ask that 'You have come after eating food, haven't you?' Even when he went to the temple, he used to keep both his slippers or shoes in different places outside there. So that no one can steal them. He was fond of eating paan. But did not feed anyone. And all this even when he himself was the prince of the royal family of Tripura. Much more is said about him, which may not be completely wrong. But even these things cannot be told the complete truth. Because they only tell one aspect of the picture. That too by quoting those people who used to interact with 'Sachin-da' only once or twice in a day, week or month.
So, in a short span of time with Sachin-da, whatever he had to do with him, he developed the same kind of thought about them. He discussed it in four places and the stories started. Anyway, gossip has its place in the world of films. So, something similar happened. But then Moti Lalwani ji came in the middle of these tales. Yes, I should say in the middle. Because Moti ji is a big fan of Sachin-Da. So because of this, he took the initiative to bring out the truth of these things he had heard. And together with his colleague Richa Lakhanpal, he found, talked to all the people who spent the big time of life with Sachin-da. Like their driver etc. Lalwani has created a website about Sachin-da, 'sdburman.net'. There are more than 80 videos on him and on his YouTube channel of such people.
These people are those whom many people in the world of films would not know, so what about anyone else outside. But all these people knew Sachin-da very well. So, today on 31st October, when Sachin-Da is on his death anniversary, wouldn't it be better on this occasion to listen to what some of these people have to say about him? So listen. Today from Aslam. He used to drive the car of Sachin-da's son 'Pancham' i.e. Rahul Dev Burman. While Aslam's father 'Bade Saheb' i.e. SD Burman. Sometimes Aslam used to drive Sachin-da's car if there was a chance. He says, 'Mostly in the evening, after five o'clock, Bade Sahab used to go to someone's house or meet somewhere. Morning time was his own. After a good oil massage at home, he used to wrap the lungi and sunbathe in the verandah. Then drink coconut water. And the time of Riyaz or rehearsal is also the same.
'Coconut water had to be kept at their place even before they sat down to sunbathe. After this, while resting there, read a book or magazine. At that time the 'Free-Press' magazine of 'Indian Express' used to come. He liked her a lot. I used to find that magazine and bring it for him. He used to meet at Khar station. Recordings were mostly kept only after noon. Once Mehboob Studio was closed, it was started by 'Bade Saheb'. Used to say- machines like this are not in any other place. One day perhaps in Filmistan, the songs of 'Amar Prem' picture (1972) were being recorded. Sharmila Tagore ji also came there. Before recording there, 'Bade Sahab' had kept his paan box with me. It was clearly said- Look Aslam, our box is of paan, a new way to give it to someone. First to get permission from us. To give again.
Then Sharmila ji came and started asking me for paan. But when I refused, she got angry. She started saying – you are a very rude man. You don't have the courage to talk. Either way, etc. He also complained to 'Bade Sahab'. Then 'Bade Sahab' called me to him and told Sharmila ji – I had refused it. He will not give my paan to anyone without my permission. Then he took the box of paan from my hand. He himself ate a paan in it and while moving the other towards Sharmila ji said- Take, now eat paan. Nothing else in his paan, an orange rind, a big cardamom, a little lime and a small bottle of rose water, he would just sprinkle it. There used to be a special paan shop at Chowpatty. From there he used to get his paan. Those paan brothers knew. As soon as 'Bade Saheb"s car started in front of his shop, he used to make paan.
'I had to get out of the car and bring only paan. He used to make his own paan at home. Sometimes he used to put kewra in it. They used to dry the peels of oranges by keeping them in the sun for two to three days. After they dried up, 'Mata Ji' (Sachin-da's wife Meera Dev) used to clean them and keep them in a box. In the second box, cardamom seeds and lime etc. To put everything in the pan. Maybe that's why he didn't give his paan to anyone. Because it is difficult to find all this everywhere, isn't it? In the morning breakfast, cut pieces of sweet chikoo, orange, banana. All this used to happen. After that they used to eat paan. And that paan wala, chowpatty wala. He used to take 15 rupees, for making paan, from 'Bade Saheb'. They used to give him five rupees separately. He used to take five rupees from him by touching his feet. Used to say- Dada, I will not spend this '.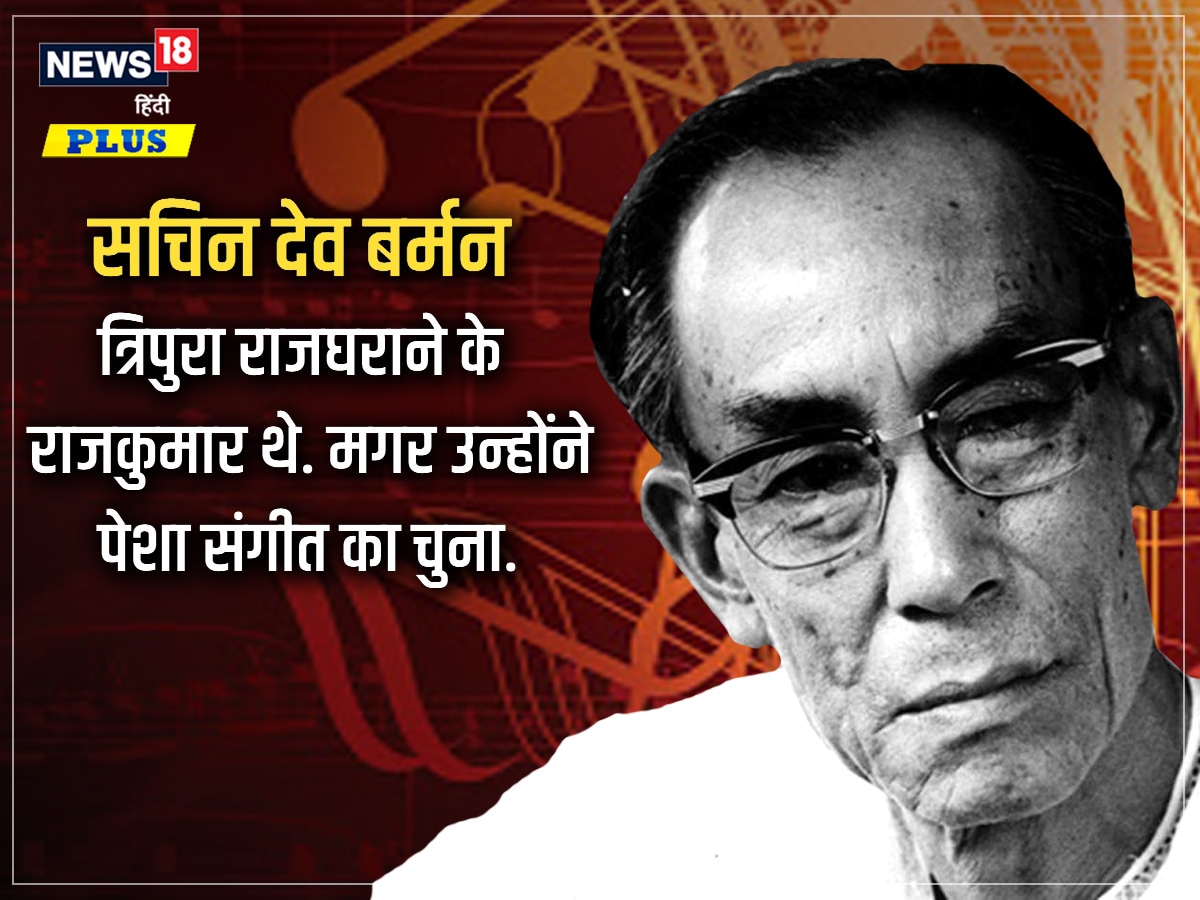 'There was another in the same studio as well. His two rupees was fixed. 'Bade sahib' always used to give him a note of two rupees – Raju ye yours. There were many such people. Give someone, five to someone, 10 rupees to someone. 'Bade-sahib' used to give something or the other. 'Mata ji' also used to arrange open money for his purse. There is a Bank of India near his house. Often used to send me to get money from there. Not only this, she used to take care of us like children. A time has come. When I initially started working, 'Bade Sahab' told me – Aslam, Babu (my father) will stay with us, you go to Sur-Mandir (Sachin-da's second bungalow, where Pancham lived). I said – okay. There I spent a month. Salary time has come. 'Mata-ji' gave my salary to my father. I don't even have money to travel. It's been five days, it's been seven.
'Then I went to the sahib (RD Burman), then he asked – what is the matter. I said – sir, there is no money. There is no money to travel. Haven't got the salary yet. They said – what does he talk about. Wait, wait, I ask. Keep this now. He gave some money. Then later I came to know that my salary has been given to my father. Because 'Mother' thought that you (ie I) would get money. You have a bad addiction. Or go to some bad place. So, don't do that. That's why I will give the pay only to Babu. So it was his. Similarly, I used to smoke cigarettes earlier. Once I was smoking a cigarette downstairs. was working on the car. Sir was sleeping. But when 'Mother' saw the smoke, she came downstairs. He asked me – where is this smoke coming from? What shall I say now? I had a cigarette in my hand. When he saw it, he pulled and slapped me. Said- You are too young now, throw it'.
'After that she took it upstairs. There she said – wash your mouth, rinse it. Then he brought his paan and gave it to me. Put a little 120 (tobacco) in it. And said – eat this. I said – this will make me dizzy. So she started saying – will not come, there is light tobacco. This is the food from today. Don't smoke cigarettes. Since then I also got addicted to paan. I used to have lunch at his place. The fix was everyday. Apart from this, if there was any party or worship or any function in the house, then we used to eat together. On the day of worship of Goddess Saraswati (Basant Panchami), 'Bade Saheb' used to feed people by serving them with our own hands. Many people used to come to 'Bade Saheb' that day. Bhajiyas, Bengali-style khichdi, were such dishes… and he had to take care of his self-esteem, his image at all times. I remember two cases of this type very well.
Once Rafi-sahib (Mohammed Rafi) was not taking money for any song. He said- Dada, you called. Gave me a chance to sing after a long time. That's a lot for me. But 'Bade Sahab' said – No Rafi, you take the money. I have a question about my image. Then he called Shakti Samant sahib and got him money. Similarly, once Shakti Samant Sahib gave Mercedes to 'Bade Sahab'. He left the car and its key at home himself. He started saying – Dada is a gift from my side for you. But 'Bade Sahab' refused. He said – I do not like this car. I already have two vehicles. Where will I keep it? I do not want. Still the car remained in the house for four-five days. That maybe the 'big sir' will agree. I used to start it and move it back and forth a little bit. would clear it. The other was dishonest. But the 'big sir' did not agree. Returned the car.
So sir, these were some different aspects of Sachin-da's personality. Surely they have not been in much discussion till now. Because true and good things of this type rarely remain in the headlines. But the story of 'Dastan-Go' is made of true words, isn't it? That's why these things have found a place here. There are many more such things. Will throw light on them sometime again.
That's all for today. God Hafiz.
Be the first to read breaking news in Hindi News18 Hindi| Today's latest news, live news updates, read the most reliable Hindi news website News18 Hindi|
Tags: death anniversary special, Hindi news, News18 Hindi Originals
FIRST PUBLISHED : October 31, 2022, 08:30 IST