Story-Go: Is there any time to tell and listen to stories? Maybe it would have happened. Or would it not happen. But one thing definitely happens. Tales, stories are interesting to everyone. It would be better if they were present on time. If it is not, it is of the past, even then it is not bad. Because they always go not only by telling us something, but also by teaching. Brings back memories of our times. Even after sweetening the spices of the serious ones, they drink it softly. That's why 'Dastaan-Go' has started, the process of bringing interesting stories to your loved ones. Will try to continue this process. Monday to Friday, everyday…
,
Sir, Do not get upset in the style of 'Sir jo tera chakraye or dil duba jaye'. Have some patience. Gradually the issue will be opened completely. By the way, since the story is of 'Johnny Walker', then a little bit of 'Sir Chakraana' is bound to happen. If you do not believe, then ask those who have ever, in one way or the other, been involved in this name. Well, sir, once upon a time, especially in India, 'Johnnie Walker' brands were not one, but two. However, the intoxication on those who came in his way was the same. One of the first brands was made of a special type of wine (whiskey) from Scotland. Those who drink must know. But they may not know that the Scottish businessman who started this famous liquor business was not named Johnny but 'John Walker'. The 'Johnny Walker' company has its own website, it is listed as such.
The story of this brand starts from the year 1820. Then John Walker opened his grocery store in the town of Kilmarnock, Scotland. At the same time, they also used to sell specially prepared liquor. At that time he did not give any special name to this wine. But the popularity of this wine was increasing day by day that his son Alexander showed great interest in taking this business forward. He first gave his wine a special name, 'Old Highland Whiskey', in 1867. Then after Alexander, his two sons – Alexander-2 and George, changed the whole story of this brand. This is in 1909, when both of them named their liquors prepared in different ways, adding 'Johnny Walker' to the name of their grandfather. There were three types of liquor named 'Old Highland'. Five, nine and 12 years old.
The first of these, which was five years old, was named 'Johnny Walker White Label', the second 'Johnnie Walker Red Label' and the third as 'Johnny Walker Black Label'. And after this, the beginning of these liquors climbed on the whole world in such a way that it has not landed yet. According to the company, by 1920, 'Johnny Walker' liquor had started arriving in about 120 countries of the world. Whereas the number of its worth-donations was in crores. Obviously, India was also among them. Here too, all the special-o-mangoes used to be included in the appreciation of 'Johnny Walker'. One of them was the famous producer, director of the film world of India, Guru Dutt Saheb. How much he liked this wine, it can be gauged from this that sometime around the year 1950-51, when a perfect 'bewildered-looking man' was brought on the set of his film 'Baazi', his The influx was such that they named him 'Johnny Walker'. In this way the second 'Johnny Walker' got birth.
It is said that at that time Balraj Sahni had brought these 'Johnny Walker' to Guru Dutt ji. This 'Baazi' film was being made and not at that time, it was being made by famous actor Devanand Sahab. Its direction was in the hands of Guru Dutt. And the story, screenplay etc. Gurudutt ji and Balraj Sahni sahib were writing together. The story of the film was written keeping the world of crime in mind. Therefore, the viewers also got light-hearted and mind-tickling entertainment in between, so both of them added a character in the story, which is of a swoon and clumsy type. After this the search started for the actor for this character. Sahni sahib and Guru Dutt ji themselves are top class actors. He knew the nuances of acting very well. In such a situation, no current actor could sit in the mold of 'this hilarious character' on his test.
Then one day when Sahni sahib was going somewhere by BEST (Brihanmumbai Electricity Supply and Transport) bus, his eyes were fixed on his conductor. Now let's remember here and there that in those days 'big people' used to be more than their stature, some less than status. That is why, even traveling in city buses, he did not feel against his pride. However, Tae Sahni sahib saw that the conductor was cutting the tickets of the passengers in a very interesting and funny way. Not only this, when a bus stop comes, he would call his name in such a way that the passengers laugh. Seeing him, Sahni sahib felt that this person might fit into the mold of that 'laughing-bewde' character of the story. But the final decision was to be taken by Guru Dutt sahib, who used to test everything on the criterion of hundred percent in terms of pictures.
So, before getting off the bus, Sahni sahib gave his explanation to the conductor, told the address and said, 'Come to meet at this address after leaving the duty. And come as if you have drunk a lot of wine. By the way, what's your name?' 'Name… the name is kept by the parents as Badruddin. Badruddin Zamaluddin Qazi. And sir, being a Muslim, I don't even touch alcohol. 'Good! No problem. It doesn't matter whether you drink alcohol or not. But reaching where you want to come is like a drunkard. Got it?' 'I got it'. And sir, 'Badruddin Conductor' reached the place where Sahni sahib had asked to come. There was a spectacle as soon as they reached there. Everyone was aware of Guru Dutt's strict attitude. He was also present there then. So, everyone was shocked. what will happen now? But what is this? Gurudutt ji was laughing at the antics of the 'Badruddin conductor' sitting with Sahni sahib!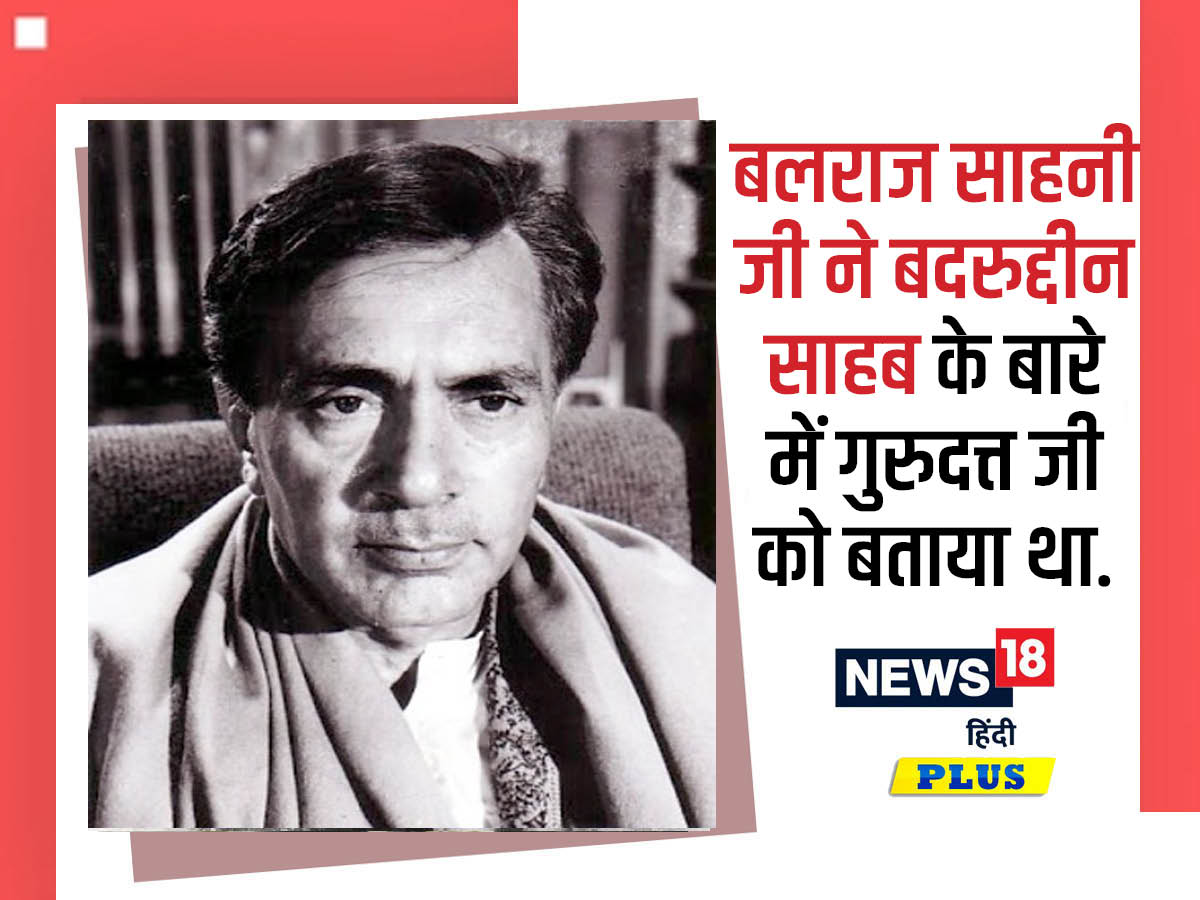 However, the matter went on like this for some time and then people understood that it is 'Badruddin Conductor', who has become a part of 'Baazi' picture. With the new name of Johnnie Walker, taking a new identity. And Sahni sahib had already told about them to Guru Dutt ji. So in this way, Badruddin Saheb, who was born on November 11 of 1920 in Indore, Madhya Pradesh, reached Bombay and turned into 'Johnny Walker' by the year 1951. And then with this new identity, he spread the intoxication of his 'laughter-addicted performance' like a liquor of the same name that at one point the distributors of films even started demanding that Johnny Walker's scene or song must be in the picture. Because it is guaranteed to keep the viewers engaged with the picture. And what was the effect of his performance on the viewers? Answers are taken through his daughter.
Johnnie Walker had six children. One of them is Tasneem Khan. Lives in America. He has told some facts in an interview with Filmfare Magazine, 'We once went to see Abba's 'Chu Mantar' (1956) film, in the cinema-hall. In this picture a song has been filmed on Abba – Garib Jaan Ke Humke Na Tum Bhula Dena, Tumhi Ne Dard Hai Tumhi Dawa Dena. Sung by Mohammad Rafi Uncle. In films for Abba, in particular, he used to sing songs. So as soon as Abba came on the screen with this song, people started clapping so loudly that we could not hear anything else for a long time. Similarly, the premiere of the film 'Naya Daur' was once. In this, when Abba did not enter for the first one or two hours, people started getting restless. Show them the scene of Johnny Walker shouting. It was explained to them with great difficulty. In this, Abba is seen after the interval.
He also has a song in this 'Naya Daur' picture – Main Bombay Ka Babu Naam Mera Anjaana. And as soon as this song came, the craze of the people again looked the same as it always seemed. Such was his flair. Despite this, he gradually stopped working in films on his own will. He often used to say – climbed Mount Everest. Now don't even get down. Only then will more people reach there. By the way, Johnny Walker had also once told a reason for gradually moving away from films, 'In our era, there used to be clean comedy. We used to keep in mind that people come to the cinema hall with their wives and children. There used to be a story for us earlier. Then the character, then the actor. But with the passage of time it turned exactly the opposite. First the actors, then the characters, finally the story. Somewhere in the middle, the comedian is fitted.
According to Johnnie Walker, 'I did not find myself fit with this change, so it was better to stay away from films'. However, when Tasneem and other family members asked him the reason for this, he used to say, 'Hey, everyone has earned. There is a house, there is a car, there are children. what else do you want'. However, if Tasneem is to be believed, then his 'Abba' did not leave comedy till the last moment. When he was taken to the hospital due to illness, he flatly refused to spend time on the machines. Used to say – I should not live 10 years lying on machines. Take it home If I stay with the family for only one year, then it is enough. So we brought them home. Here he would often make us laugh. We would sometimes tell him that Abba, open your eyes. So they would open only one eye and say – the other one is resting now. However, one day that also came, when both the eyes of Johnnie Walker sahib went to rest forever. That was the 29th of July of the year 2003.
That's all for today. God Hafiz.
Be the first to read breaking news in Hindi News18 Hindi| Today's latest news, live news updates, read the most reliable Hindi news website News18 Hindi|
Tags: birth anniversary, News18 Hindi Originals
FIRST PUBLISHED : November 11, 2022, 10:05 IST