tale-go Is there any time to tell stories and listen? Maybe it would have happened. Or would it not happen. But one thing definitely happens. Tales, stories are interesting to everyone. It would be better if they were present on time. If it is not, it is of the past, even then it is not bad. Because they always go not only by telling us something, but also by teaching. Brings back memories of our times. Even after sweetening the spices of the serious ones, they drink it softly. That's why 'Dastaan-Go' has started, the process of bringing interesting stories to your loved ones. Will try to continue this process. Monday to Friday, everyday…
,
Sir, 'Wonderful isn't it? A personality, who has always been a 'voice for women's rights'. You have been fighting for them. Who has also made films the means of this fight. That too in just 30-31 years of life! The same personality, in the last years of his short life, found himself deprived of his authority. Keep feeling like a prisoner. Forced in front of emotions, she kept on shedding tears. Then one day, like a helpless, helpless woman, leave this world. 'Wonderful isn't it? But this is true. The truth of life of the famous actress of her time, Smita Patil, whose birthday is today, October 17 (born in the year 1955). Sir, some interviews of Smita Patil herself and people close to her are found on YouTube. They get a glimpse of the different aspects of his life. Anyone can verify by listening to them.
One of these interviews is of Smita ji. This interview was taken for Doordarshan's 'Ghar Bahar' program. The issue was related to the way of portraying the characters of women in films. It was related to the thinking working behind it. Listen, what does Smita ji say, 'Ever since I started working in Hindi films, I have done good films. By good films, I mean that the roles of women I played in them were such women of India, about whom the truth was told in these films. Those who are from rural background (coming from villages) or urban background (from cities). Like- 'Bhumika' (1977) was. Like- 'Manthan' (1976) was. In which not only the traveling woman of India, but her inner strength, her passion to fight with the circumstances, were all very well shown.
"But when I started working in commercial films… the formula films that are being made, ever since the industry started, especially for the last 10-15 years, because of the formula in them, are the portals of all women. were happening the same way. For example, many women are either shown to be virtuous, sati, always traveling, or stupid, or shown to be weak. Either they are vamps (villains), where they play negative roles. Where he sells his body… Now when it comes to prostitution (prostitution) in selling his body, then very good films have been made in that way too. Also made in Fifties (1950's tens). 'Devdas' (1955) was also made. Made by Bimal Roy. Guru Dutt sahib had also made very good films. But today, by going somewhere, the pain of prostration is becoming a way of exposing only his body, forgetting that pain, to take it as a profession. This is wrong'.
Meanwhile, question on a poster of Smita ji, in which she is seen taking a bath under the tap with half her body open. Smita ji's reply on this, 'You have seen 'Chakra' (1981). It went well was a good film. But for a woman who lives in slums, her bath is a very daily thing. But you will not stop on the way. They will not even think that they do not have a place to live, so from where will they get a place to take a bath. But when you make a film and when it sells in the commercial circuit (professional domain), then the matter of publicity is always in the hands of the distributor. And to the audience of India, it may not happen, but they have been forced (forcibly) that see, there is sex in this. It has half bare bodies of women. Then you will come to see the movie. It has become such an attitude, which is very wrong'.
'If the film is saying one thing with a sincere heart, it will work. Only such posters do not make the film work. But what is the basic exploitation of such posters, not only in Smita Patil's 'Chakra', it is all over the advertising capes, in all the films. You can't show the hero naked. Nothing is going to happen to him. But if the woman is shown naked, they feel that a hundred more people will come. Similarly, on the second question, Smita ji says, 'The audience (audience class) of India is not stupid. He likes emotional movies very much. Our family structure is so strong, even now that they like such films. So in fact, if a person is shown a wrong thing and is made dependent on it, then he will start liking that thing… Still, the people who make the film or the people who work in the films, it is in their hands to change it. .
'One thing is said, when a film is made, it is the filmmakers who are there. He says that look, if the women in the film come out after stopping then that film will become a hit. This is a conditioning (image-building) done of women… This form of women has been created over the years that by showing her weak, she is weakened further. But you are so quick, very powerful woman if you show up. Like the movie Subah (1982), which I would like to mention, in which, for a woman, breaking the upper-middle class educated family structure, only to become the superintendent of a remand home, Sab Kitna Mushkil Is.' This is Smita ji sir, who has done 80 films at the age of only 31 years and in a career span of just 10 years. Only a few of them, which he called formula-films. The rest, all 'meaningful cinema'.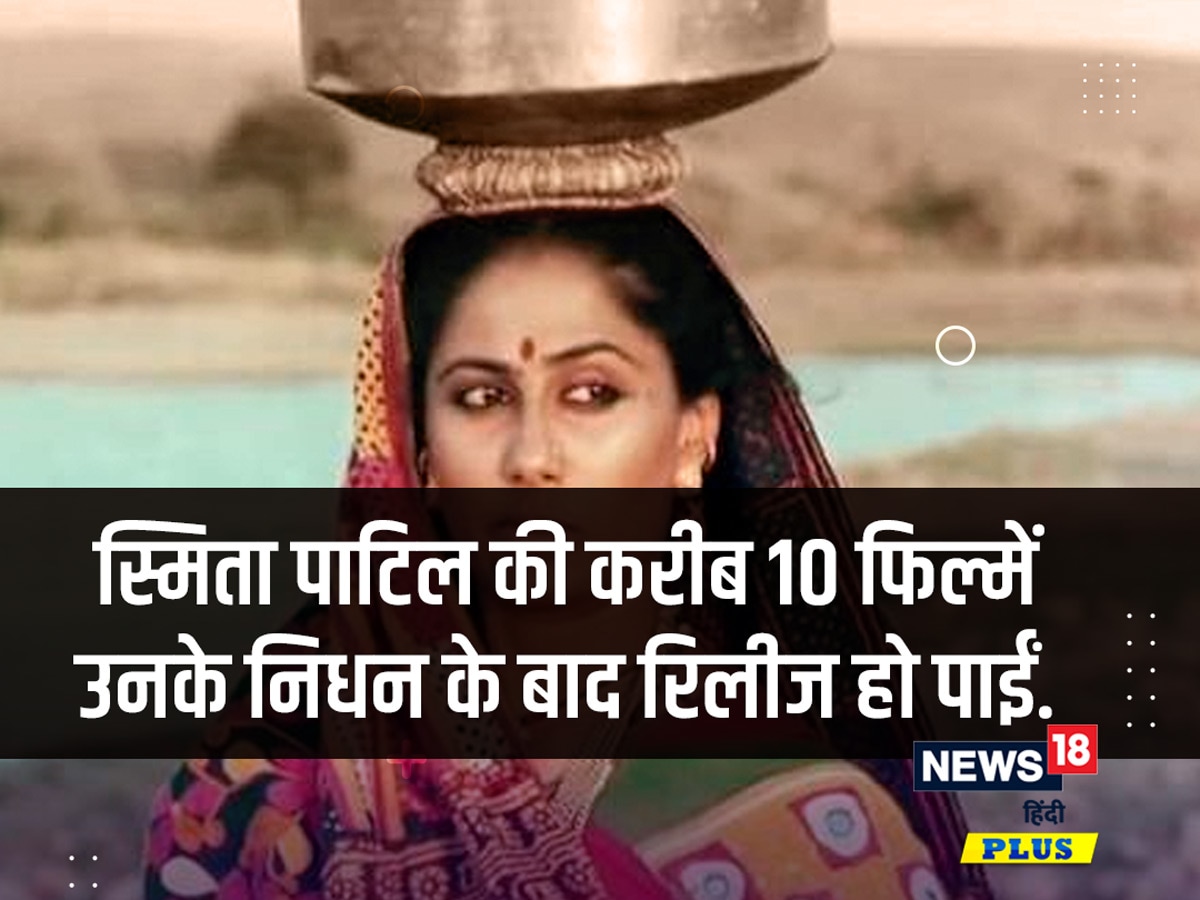 This is the reason that he received the National Film Award twice for his work. First for the film 'Bhumika' and then 'Chakra'. This is the reason that more than 10 of his films kept coming even after his death. This is the reason that even after so many years of his death (died on 13 December 1986), not only in the film world, people outside him also look at him with respect. Remember with respect. But see the paradox that this same Smita ji had to spend the last years of her life feeling like a weak woman. It is a matter of when she lost her heart on the married actor Raj Babbar Sahab. In the year 1982, when the film 'Bheegi Palken' was being made, then these two fankars met. Nadira was present in the life of Raj Saheb as a wife till that time. So, many things happened, regarding Smita ji's relationship with him.
In this regard, Annu Kapoor Sahab, a well-known actor, once interviewed Smita's younger sister Manya for 'Big FM' radio. This is the year 2015. In the same, Annu ji had questioned Manya. About the relationship between Raj sahib and smita ji. About her passing away as soon as she gave birth to her child (Pratik). Then Manya said, 'Actually she (Smita ji) felt that I might not stay in this world for long… when you get involved with a married man, then my mother and father asked her (Raj Sahab) for that. from) also spoke. Look, now-a-days, we are not living in such an old age that if you are so serious about you, then you take a divorce, get married again. So that everything is done properly. There has to be a way for everything. So, that didn't happen. She was very sad because of this.
Remind me, sir, that at the time Raj Sahab married Smita ji, he was not divorced. However, he had definitely left his wife, children and came to Smita ji. Maithili Rao, who wrote the biography of Smita ji, has written in her book 'Smita Patil: A Brief Incense'. It is also recorded that her mother was particularly angry with this step of Smita ji. He said that how can his girl, who fought for the rights of women throughout her life, break into a woman's house. But Smita ji then probably did not pay attention to her. However, her relationship with Raj Saheb also did not work properly. This is all about 1986. She gave birth to a son on November 28 of the same year. Had a normal delivery. But suddenly not knowing what happened unusual, that Smita ji's breathing stopped again.
Listen to Manya about this, 'He expected, thought that he (Raj Sahab) was going to do something, but he did not do anything (about divorce). This made him feel very embarrassed. I remember once he told me that – Manya, I have fallen so much in my own eyes that I do not know whether I will ever be able to get up from it or not. She was such a stubborn girl, never backed down to compete with anyone. Such a girl has to give up on her life… it was a very tragedy'. Then he went on to talk about the last moments, 'During the birth (of Pratik), nothing happened. After that the problem happened. If the doctors had checked them on time, called them and got them tested there, then the problem would have gone out. There was no such problem. But everything has its time.
'I think about a year when she was pregnant, her mental condition had become very low. But she wanted so much for children that she used to say (about the relationship) that I will break it now. Will find someone again. Then when will the baby be? He desperately wanted a child. She wanted to become a mother. He had such a deep desire that he ruined himself for her. But when that child came (in the womb) actually, then I think there was a ray of hope for him. Whether or not this child is mine. Let everything else go. I have to maintain this well. And maybe she would even leave the relationship later. But that too could not happen. How would it have happened, just now Manya has said, 'Everything has its time'. And perhaps 'at that time' is called luck. So, be it the beginning or the end, as it was, it was Smita Patil's time.
Be the first to read breaking news in Hindi News18 Hindi| Today's latest news, live news updates, read the most reliable Hindi news website News18 Hindi|
Tags: birth anniversary, Hindi news, News18 Hindi Originals
FIRST PUBLISHED : October 17, 2022, 07:45 IST