tale-go Is there any time to tell stories and listen? Maybe it would have happened. Or would it not happen. But one thing definitely happens. Tales, stories are interesting to everyone. It would be better if they were present on time. If it is not, it is of the past, even then it is not bad. Because they always go not only by telling us something, but also by teaching. Brings back memories of our times. Even after sweetening the spices of the serious ones, they drink it softly. That's why 'Dastaan-Go' has started, the process of bringing interesting stories to your loved ones. Will try to continue this process. Monday to Friday, everyday…
,
Sir, It is a matter of those days when Saadat Hasan Manto, the famous Nagma-Nigar of Urdu adab, lived in Bombay. In those days, Manto sahib used to have a dear friend in the film world. He was the one who created Mughal-e-Azam. Karimuddin Asif sir. People whom K. Known as Asif. So Asif sahib, then his brother-in-law and famous filmmaker Nazir Ahmed Khan's 'Doosri Biwi' had a lot of fun. Asif had then come new to Bombay and was trying to establish a foothold in the film world through brother-in-law. But then he fell in love. In this affair, he had a rift with his brother-in-law. Because brother-in-law had to say divorce to his second wife because of this. Along with this, Asif sahib again had to marry those lovers. This will probably happen around 1945-46. Because then the second world war was over.
Till that time this was Asif Sahab's second marriage. The first family was done by rituals-o-rivals. Whereas perhaps the third of those fascination was. Because before Nazir sahib, he had a marriage at a very young age, which did not last long, it is said that. Not even with Nazir sahib. However, his relationship with Asif sahib went a bit long. At the same time, Manto sahib, who was familiar with both of them, once said to Asif sahib, 'Asif! I have known many women over the years. I have seen many closely. But the more I know about your 'In Begum', the more I try to understand her, the more I can say that she is not a woman, but a storm'. And sir, this was not the first time that a person like Manto had understood these illusions like this.
Even before this, an incident happened in the Malabar Hills of Bombay. Around the year 1936-37. The British were then trying to divide India and all the Indian personalities were trying to thwart the plans of the British, however. In this connection a big meeting was held on Malabar Hills in Bombay. At the house of Aatiya Begum, an influential social figure. Gurudev Rabindranath Thakur (Tagore) was in this meeting. 'Swara Kokila' was Sarojini Naidu. Also, there were kings and emperors of about 25-30 princely states. During that meeting, the same lover was called to present his dance there, on which Asif sahib's heart had fallen. Aatiya Begum often called him on such occasions. So there she did her dance, which had such an effect on 'Gurudev' that he had given her the title of 'Kathak Empress' right there.
But sir, let's go back five-six years from the people of this Malabar Hills. Consider the age of the same lover who was given as 'Kathak Empress' at that time of 10-11 years. Meaning the year would be sometime around 1930. Because the birth of these lovers is said to be on November 8, 1920. His Mishra Barhman family belonged to Banaras. But father Pandit Sukhdev Mishra had gone to Bengal along with his family for some reason. At the same time, the birth of these fascination took place in Calcutta. She was named Dhanalakshmi as a child because she was born on the day of Dhanteras before Diwali. Father was very knowledgeable of music, dance along with Sanskrit language. He had three daughters. Alaknanda, Tara and Dhanalakshmi. He trained all three of them in songs, music and Kathak dance. The society allowed them to scold. did things. But he didn't care for anyone.
It is said that during the same time, once 10-11 years old Dhanalakshmi performed her dance in a program. Then some newspapers of that era wrote after that program, 'Ek Balika Dhanno dazzled the audience with a dance performance'. It is said that after reading this news, Pandit Sukhdev ji had an idea of ​​Dhanno's future. They understood that their daughter was going to shine like a star in the sky of the world of song, music, dance. Hence, he named his 'Dhanno' as Sitara Devi from the same day. Sitara Devi, that is, whom Gurudev Rabindranath Tagore called 'Kathak Empress'. Sitara Devi, that is, Asif Sahab, on seeing whom he lost his heart. Sitara Devi, that is, the one whom Manto sahib called 'a storm in the form of a woman'. By the way, Asif or Manto sahib were not the only or first to face 'this storm'.
It is said that when she was only eight years old. That is, around 1928. Then according to the social customs, they were married. After this, his in-laws expressed their intention that they should take care of the house again and again. Like normal girls handle. But if she was some 'common girl' then she wouldn't! He insisted that he has to go to school. Have to study The in-laws got angry about this. It was built on his honor. Well, even the girls of good family are steps outside the house, are they the earth? What will People Say? Such things happened. Try to explain too. But she did not agree. Eventually the in-laws broke ties. Father supported the daughter. He got admission in the high school of Kamchgarh. While there, he performed the dance, which was written about in the newspapers. And right there, at the same age, she went from Dhanno to Sitara and from Sitara to 'Kathak Guru Sitara Devi'.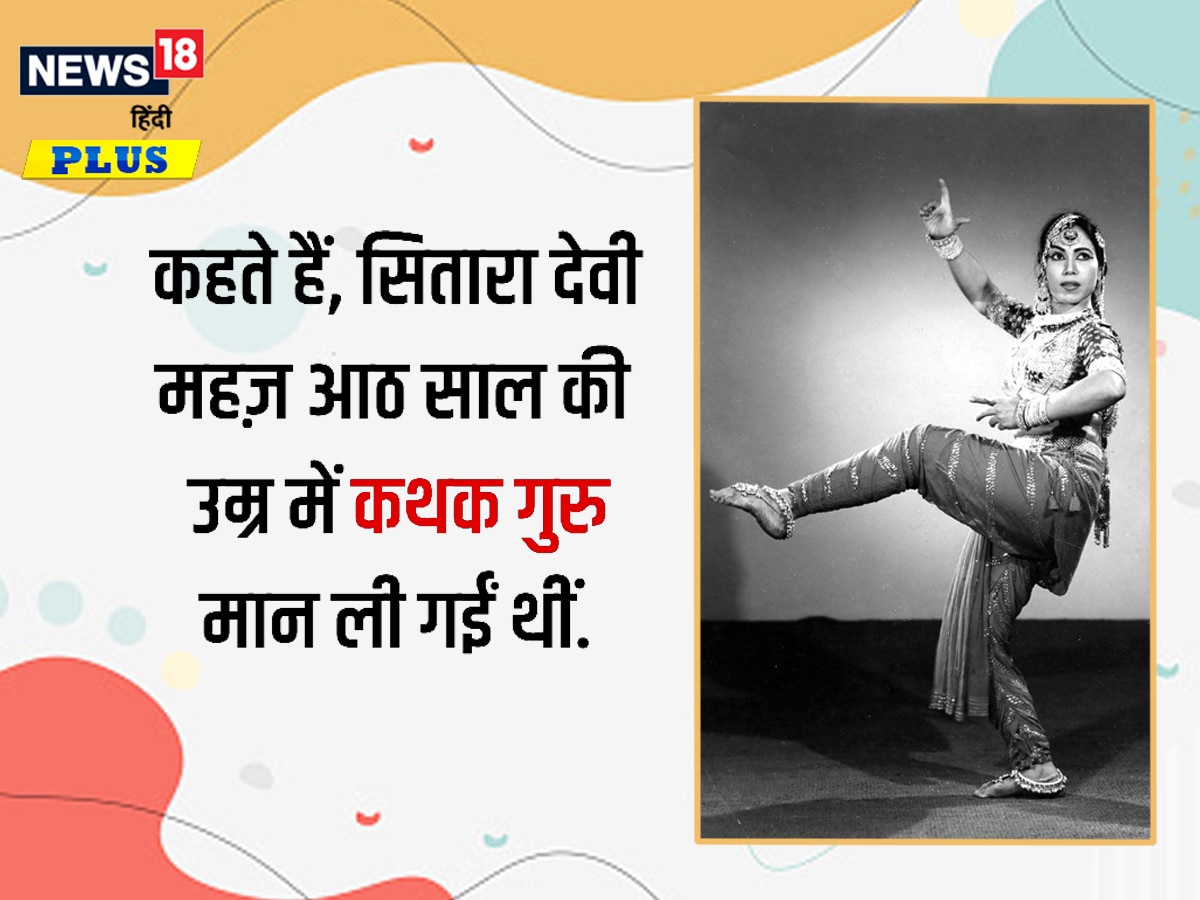 It is said that Pandit Sukhdev ji soon realized that if he wanted to take his daughters forward in the world of song, music, dance, he would have to take them to the places where this fun was cherished. That is, today's Mumbai and that era's Bombay. So, they came to Bombay. Then probably Sitara Devi was only 12-13 years old. Pandit Sukhdev ji's decision to reach there was right. Soon Sitara Devi was given a chance by filmmaker Niranjan Sharma to act in his film 'Usha Haran'. Although the film took seven years to complete, Sitara Devi's stars shone long before that. In the next two years, she was seen spreading the magic of dance and acting in many films like 'Vasant Sena', 'Anokhi Mohabbat', 'Shehar Ka Jadu', 'Veer Ka Badla'. Then, around 1940, she joined Nazir Ahmed Khan. After this with Asif sahib.
And sir, it was Asif sahib who probably got hit the most by the storm named 'Sitara Devi'. The reason for this was that Asif sahib used to be a personality of some kind heart. After marrying Sitara Devi, when he was making 'Mughal-e-Azam', his heart fell on the actress of that film. Nigaar was given the role of 'Bahar' by Asif Sahab in 'Mughal-e-Azam'. He then told Sitara Devi, 'Nigar is your friend, so I am taking her in the picture'. Sitara Devi had also given her approval. But soon he found that Nigaar had more friendship with Asif Sahib. Rather, after some time, Asif sahib made Nigar his wife and brought him in front of Sitara Devi. Sitara Devi was shocked by this. Asif sahib left. However, his friendship with Nigar remained.
Not only Nigaar, she kept on lavishing a lot of love on the children born to Asif Sahab's first wife. But then Asif sahib made such a mistake that Sitara Devi's love turned into hatred for him. Actually, Sitara Devi was one of the two selected personalities in the film world, who used to tie Rakhi to Dilip Kumar Saheb. The first among them was Lata Mangeshkar. So when Asif sahib drove away Dilip sahib's younger sister Akhtar and married him, a lot was broken by this incident. Dilip sahib was badly broken. His friendship with Asif sahib broke down. Asif Sahab's relationship with Sitara Devi completely broke down. And also the dam of patience of Sitara Devi. It is said, then Sitara Devi had cursed Asif sahib, 'I will not even see your face after today, Asif! And one day you will die a bad death on this sin of yours.
What's more, the Government of India also had to face 'this storm' named Sitara Devi once. In view of his contribution, the government gave him the Sangeet Natak Akademi Award in 1969. Then Padma Shri in 1973 and Kalidas Samman in 1995. After this it was announced to give him the 'Padma Bhushan' award. But he flatly refused to take this award. Said, 'This is not an honor but an insult to me. Does the government know about my contribution to Kathak? I will not take any award less than 'Bharat Ratna'. So sir, there was such a 'storm in the form of a woman' Sitara Devi. This storm had calmed down after his death on 25 November 2014. The various aspects related to his personality have been obtained from his own interviews etc. There is an autobiography of Dilip Sahab, 'The Substance and the Shadow'. In it, all the statements have been revealed by quoting Sitara Devi. By mixing them all, this story of his has been written.
That's all for today. God Hafiz.
Be the first to read breaking news in Hindi News18 Hindi| Today's latest news, live news updates, read the most reliable Hindi news website News18 Hindi|
Tags: birth anniversary, News18 Hindi Originals
FIRST PUBLISHED : November 08, 2022, 08:40 IST