highlights
76 years ago, there was an uproar in France when French girl Mechlin Bernardini wore a bikini for the first time in 1946.
It was not made by any tailor or costume designer but by an automobile engineer named Reard
It was named Bikini because then a nuclear test was conducted at a place named Bikini and it was also considered explosive.
There has been an uproar over a song by film actress Deepika Padukone. The way she has done bold scenes in a saffron colored bikini on the song Besharam Rang for the upcoming film Pathan, she is in controversy. Many organizations including the Hindu army have strongly objected to this. The film has been warned not to be shown in theatres.
By the way, even today wearing bikini in films or in public is considered very objectionable and bold. There has often been an uproar over bikini scenes. You should know that when a nude dancer wore a bikini in public for the first time some time before 75 years, there was a lot of uproar. In many countries even laws have been made regarding bikini, in many countries it is illegal to wear it in public. Do you know who invented it means who was the creator of it.
In the year 1946, when 19-year-old French girl Mechlin Bernardini performed for the first time wearing a bikini, there was a stir. People expressed this displeasure. The media and the church of France were infuriated. This work was done on 05 July 1946. The designer of bikini was Louis Riard of France.
Reard searched extensively and could not find any professional models to wear the skin-tight outfit. Everyone refused to come in public wearing it. Reard wanted to display it at a fashion event in Paris. When professional models were not ready, he approached a nude dancer of a casino.
She was a nude dancer Michelin. It has been 76 years now. Micheline is now 94 years old. are alive. Then she worked as an exotic nude dancer in a popular casino in Paris.
Then there was an uproar but thousands of fans also praised
When she appeared in public at the swimming pool wearing a bikini with newspaper print design, there was a stir. This had to happen. She also posed wearing a bikini with a matchbox in her hand, which seemed to mean that this bikini is so small that it can even fit in a matchbox. After this, Michelin received letters from 50,000 fans.
This is Michelin, who posed in public wearing a bikini for the first time. There was a big uproar over this. 76 years have passed since then. (file photo)
Then the two piece bikini was amazing
Back then, it was considered very bold to wear a one piece swimsuit in public. In such a situation, the two-piece bikini destroyed her amazingly. Most of the body was being exposed in this. The Catholic Church there also found its design quite objectionable. The French media also strongly opposed it. For the first time in 1951, the contestants of Miss World's beauty contest wore bikini. But after this there was a ban on wearing bikini in the contest.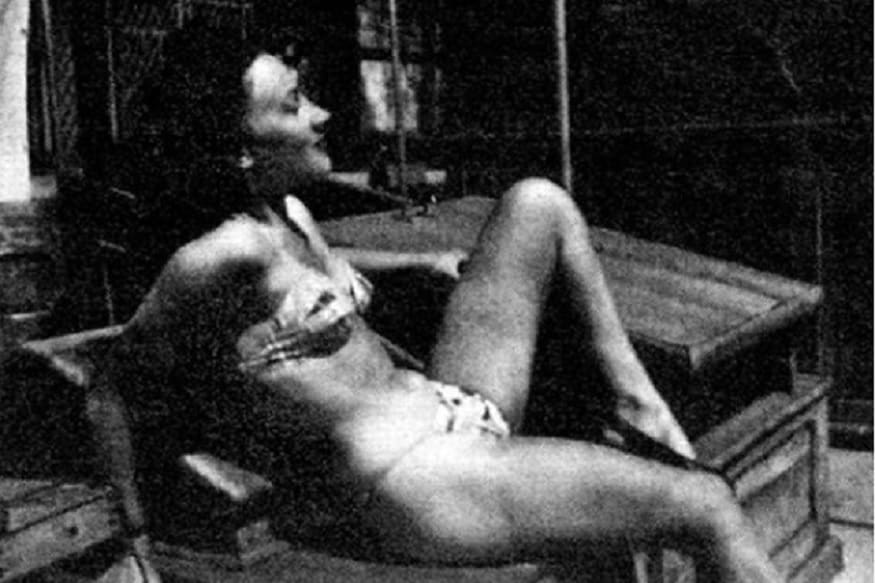 Micheline Bernardini posing in a bikini 76 years ago, causing an uproar in the French media and the church. By the way, the model who gave this pose is still alive. Now his age is getting around 94 years. (file photo)
In many countries its wearing was banned and fined as well.
In many countries of Europe, such as Italy and Spain, at first the authorities banned it. At that time, if a tourist was seen in a bikini on the beach, he was removed from there or fined. Even in the late 50s, it was not considered good for American women to wear bikinis. Although French women liked it.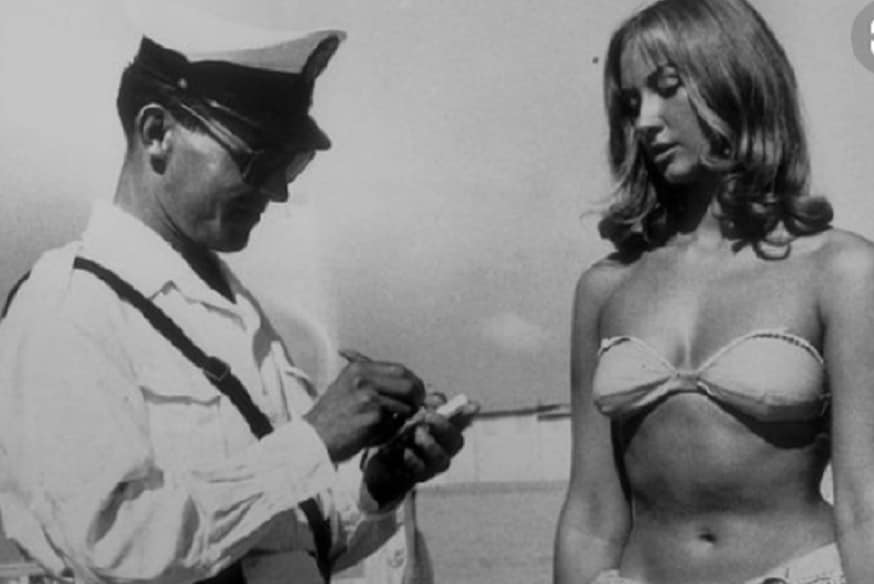 In the 50s in Europe, in many countries, the police used to impose fines for wearing bikinis on the beaches. Wearing it was completely banned in many countries. Although later it became a symbol of women's liberation (file photo)
Bikini also became a symbol of Woman Liberation
Later this bikini became another symbol of women's liberation. At that time (probably even now) nothing more sexual than this could be understood.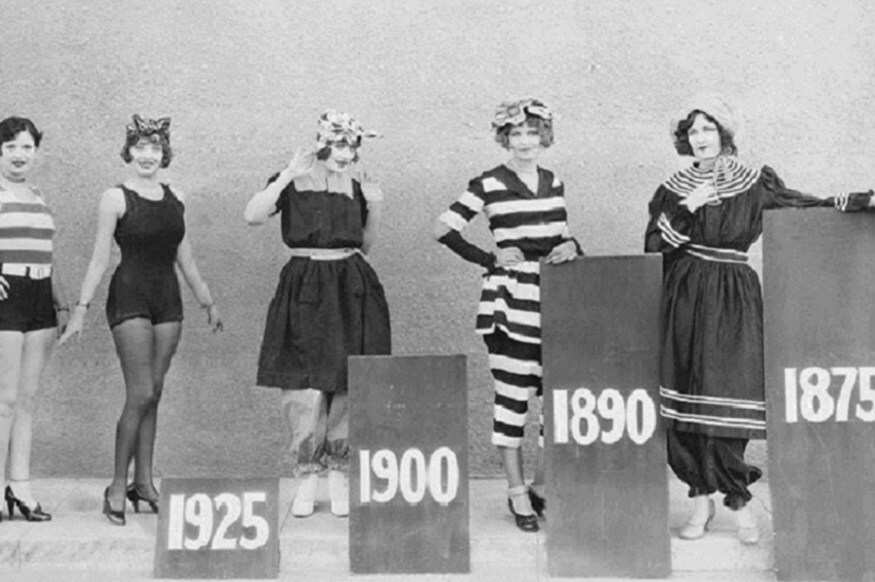 Bikini became another symbol of women's liberation. Reard was an automobile engineer who made it but his family used to run a lingerie shop.
How did the idea come to mind
Reard was an automobile engineer by profession but his family ran a lingerie shop. One day he noticed that on the French Mediterranean beach, he saw that some women bathing in the sea were wrapping their bathing suits and shortening them so that more of their skin could be exposed. It was from here that Just Reard got the idea of ​​the two piece bikini.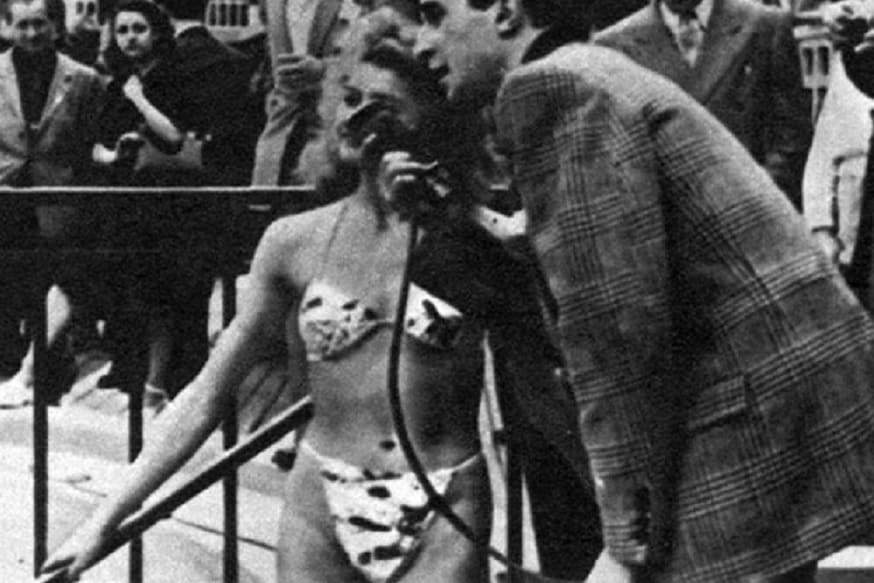 Micheline Bernardini during her first public appearance in a bikini. It was covered extensively by the French media. No one had even thought that a woman could pose in public like this. (file photo)
That's how it got the name bikini
Around the time Reard got her bikini ready, the first atomic bomb was detonated around the world. Reard used only 30 inches of fabric in this swimsuit. He wanted that when people see it, they should be shocked in the same way and their reaction should be almost the same as it was after the atomic bomb. Since the first nuclear test was done by America on the Pacific Bikini Beach of a small island, the name of this small cloth was named bikini.
Its effect was similar to that of a nuclear explosion.
Bikini Atoll is the smallest island in the Marshall Islands, where the US conducted a total of 60 nuclear bomb and hydrogen bomb tests from 1946 to 1958. Done. Its designer felt that the effect of his designed suit was similar to that of a nuclear explosion, hence it came to be known as "Bikini Swimsuit".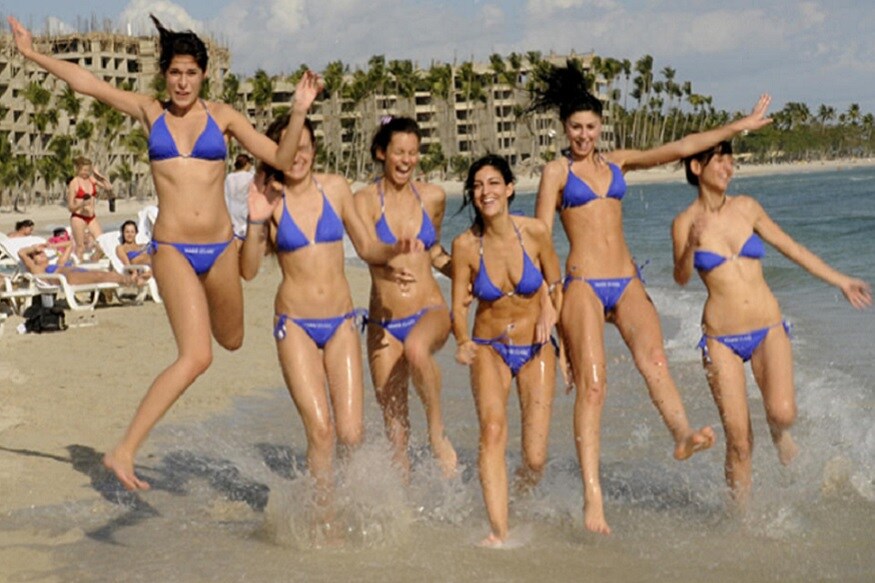 In the 60s, the bikini became a part of popular culture in America. Actress Annette Funcillo wore it in the 1963 film "Beach Party". By the way, wearing it in Indian films is still considered bold. Whenever an actress wears it, there is an uproar.
Sharmila Tagore wore bikini for the first time in Bollywood
In the 60s, it joined the popular culture of America. Actress Annette Funcillo wore it in the 1963 film "Beach Party". Actress Brigitte Bardot grabbed everyone's attention when she wore it to the Cannes Festival in 1953.
Then many other actresses were also seen wearing it. In the 1960s itself, the design of bikini was printed on the cover page in the magazine named Playboy and Sports Illustrated. In India, when Sharmila Tagore wore a two-piece bikini for the first time in the film An Evening in Paris in 1967, people's eyes widened in the country. Gone. However, there was no protest like this at that time.
First read breaking news in Hindi News18 Hindi| Read today's latest news, live news updates, most reliable Hindi news website News18 Hindi.
Tags: bikini girl, Bikini Photos, deepika padukone, pathan movie, Sharmila Tagore Bikini
FIRST PUBLISHED : December 16, 2022, 13:10 IST