New Delhi: Doctor G movie review in Hindi: Ayushmann Khurrana and Rakul Preet Singh starrer film 'Doctor G' has been released in theaters today. For some time now, there are many issues like lack of content on Hindi cinema, just making remakes. But when it comes to content, the expectations from Ayushmann Khurrana are always very high. Since the trailer of this film, the audience had high expectations from this film of Ayushmann. Shefali Shah's entry in the trailer also increased the craze among the fans. Ayushmann Khurrana's Doctor G has once again brought to the audience a subject that has probably never been touched on screen before. Let us tell you how many numbers pass in the class of cinema, this Doctor G.
Story- The story of this film is of Uday Gupta (Ayushmann Khurrana) living in Bhopal who has done MBBS and now wants to take admission in PG. In PG, he wants to take orthopedic (department related to bones), but due to his low rank, he does not get a seat in ortho only, he gets a place in gynecology i.e. obstetrics and gynecology department. Uday wants to take admission in orthopedics in any case because it is a subject suit for 'men', whereas admission in gynecology makes him feel embarrassed. His senior in this department is Fatima (Rakulpreet Singh), whom he also falls in love with. This is just Uday's struggle and his HOD in this struggle is Dr. Nandini (Shefali Shah) who is facing this department advising him to end 'mail-touch'.
First of all, if we talk about the concept of the film, then I would like to praise Anubhuti Kashyap sitting in the director's chair, who has tried to bring this bold medical comedy drama on screen. Actually The film may have been tangled around the medical college, in which the hero wants admission in orthodox for men and not in gynecology for women. But this story tells about the thinking of men towards women and the attempt to divide many works and professions into 'mad-woman'. In one scene, the hero of the film is asked what is the problem in getting him 'Gaynek'. So he says, 'I have seen boys in my locality playing cricket and girls playing badminton. Now how can I play badminton dude…' Just like this society has divided a lot 'for women' and 'for men'.
Ayushmann Khurrana is also very good in his character in this film as well. For the first time in the cinema, which has been serving the idea of ​​'a boy and a girl can never be friends in the name of romance' for years, it has been shown for the first time that 'just like two boys can be friends, girls can be friends, so a boy And girls can also be just friends. In many films including 'Pyaar Ka Punchnama', an attempt has been made to establish the 'truth' that a girl's friendship with a boy is 'to meet the unmet needs of her distant boyfriend.' But this film tries to break this old concept of yours. But the drawback of this film with this very important and important concept is that it becomes very slow in doing both these things. Especially this second case.
From the very first scene of the film, you get an idea that this hero is such a man, for whom it is difficult to understand a woman. But this has been repeated so many times that you feel Uday is more correct. There are many scenes in this film, when you think that maybe something else will be said, something will be said but the scenes end. Knowing with a thought over the years, Uday cannot miraculously understand everything on his own by playing just a badminton. Ayushmann Khurrana has been bringing very bold subjects and stories on screen even before this. Whether it is homosexuality or a film on masculine weakness, the factor of comedy and entertainment remains very high in all Ayushmann's films. Perhaps this is the reason why the audience does not feel bitter even with the bold subject that they drink. But You will rarely find moments of laughter holding your stomach in Doctor G. It is a medical-comedy-drama but medical and drama has become too much in it and comedy is missing. The first half of the film is still light, but in the second half, the story completely reverses. The film also becomes a bit heavy in the second half.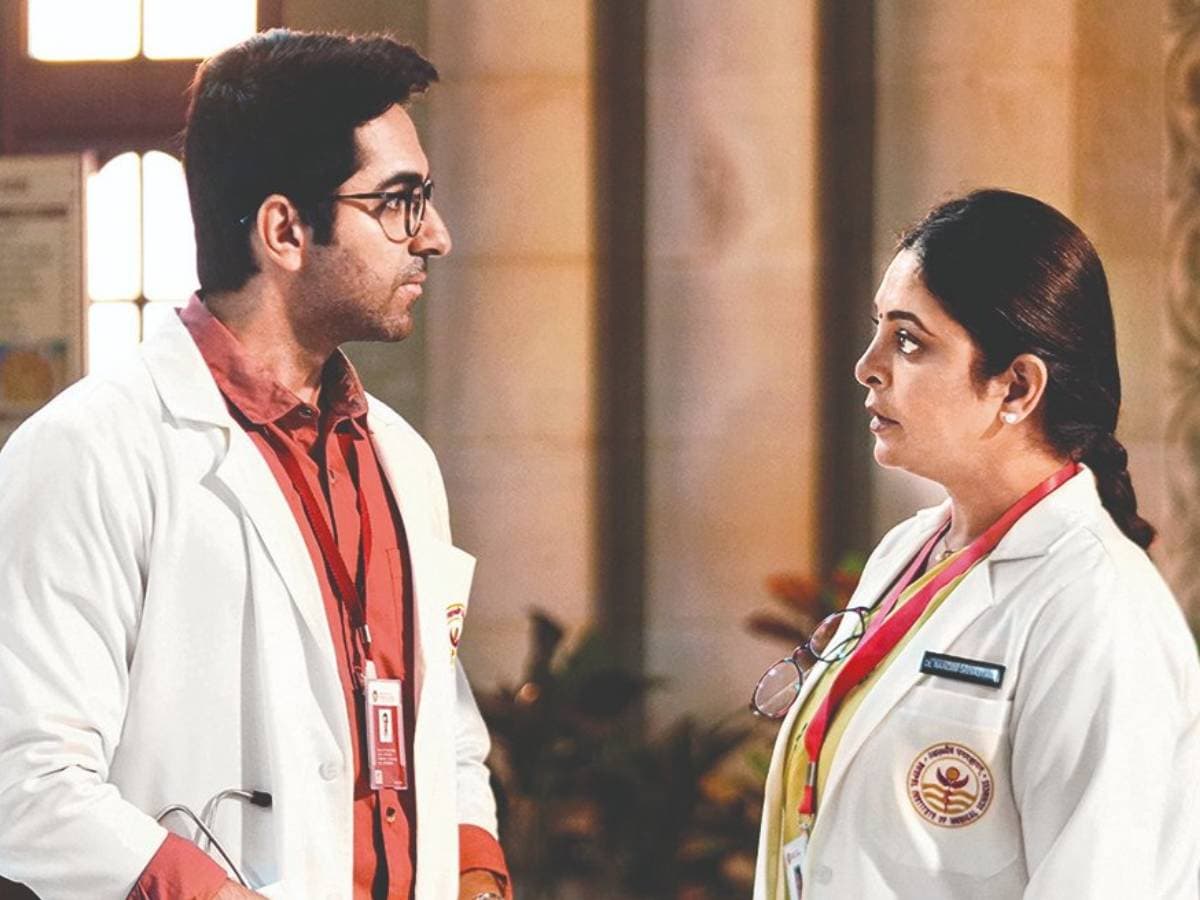 Shefali Shah has become the head of the gynecology department in this film.
Talking about the performance, as always, Ayushmann Khurrana has been completely fit and strong in his character. Often the hero of our films keeps a lot of drama of emotions in his backstory even after doing wrong to wrong things, so that he never feels wrong even if he is wrong. But the art of making him a 'hero' and connecting with the audience with the shortcomings in his character on the screen is amazing with this actor. Shefali Shah has been a force to be reckoned with in the character of HOD. His dialogues, his style are superb. Whenever Shefali has come on the screen, then you will not be able to feel anyone on the screen except her. On the other hand, the character of Sheeba Chadha in the character of Ayushmann's mother has been fun. Rather, if someone's presence in the entire film will make you laugh, then it is Sheeba. Rakulpreet looks good in her scenes.
Doctor Ji is a slow story with a wonderful concept, in which the actors have not left short in paying. Just this story was not told as sharply as it should have been. You must watch this film once on screen. 3 stars for this movie from my side.
detailed rating
| | | |
| --- | --- | --- |
| Story | , | |
| screenpl | , | |
| direction | , | |
| music | , | |
Be the first to read breaking news in Hindi News18 Hindi| Today's latest news, live news updates, read the most reliable Hindi news website News18 Hindi|
Tags: Ayushmann Khurrana, Rakul preet singh
FIRST PUBLISHED : October 14, 2022, 11:09 IST