First read these things about Halwa. A hymn of famous bhajan singer Narendra Chanchal is still in the mouth of the people that 'mother fulfills her wishes, will distribute pudding'. There are such gods and goddesses in India, including Lord Vishnu, who are offered as prasad. Sweet is offered. Thirdly, if we go to any wedding event or other program of village or high society and if we are not able to make pudding there, then you may not get pleasure in the food. Fourth, every year when the budget of the Government of India is printed, the Halwa ceremony is organized. It is clear from all this that halwa is a symbol of happiness and joy, as well as this sweet dish is deeply rooted in Hindu religion, culture and social tradition.
The way India has a thousand-year-old religious policy and practice of offerings in the form of halwa, then we would believe that halwa will also be the oldest confectionery of the country. But you will be surprised that halwa is a foreign item and is 'new' to India.
There is no mention in Indian ancient books
This thing is being said because in Indian scriptures, ancient Ayurveda books, etc., the word halwa has not come up anywhere and neither does any consonant with it. Yes, the description of making a diet by adding some food grains to milk or sugarcane juice has definitely come. Despite this, pudding is being offered to many Hindu deities in the form of prasad for years. According to astrologer Pandit Ashutosh Sharma, semolina pudding is offered to Lord Vishnu as Prasad. The prasad of Maa Durga is the pudding. On Navratri, only prasad of halwa is distributed. Kesari Halwa is offered to Goddess Saraswati on Vasant Panchami. Moreover, Bhairon Devta is very fond of pudding along with alcohol.
Also read: Maize has settled in the food of Indians, from popcorn to baby corn, know the story of its properties
He said that it may be that due to the Muslim rulers of the country, the variety of halwa has increased and this prasad has been given the name of halwa. He said that some things or evidence are oral rather than written and this has been our tradition.
On any Teej-festival, halwa is specially prepared here.
The name of the confectioner came from the halwa itself.
For now, we talk about the name and dish of halwa. Surprisingly, the confectioner who makes sweets, which is deeply embedded in our language and food, has also got its name from the halwa itself. Religious-marriage-social festivals and programs are not complete without halwa, yet halwa is not authentically from India. The word halwa comes from the Arabic word 'halva', which means sweet. According to the book 'Guzishta Lucknow' by 20th century writer and historian Abdul Halim Sharar, halwa originated in Arabian land and came to India via Persia. This original Middle Eastern sweet was made from date pulp and milk.
Also read: Papaya is eaten both raw or cooked, this is the journey of this fruit to reach India as a 'panacea' for the stomach
Another author, Colleen Taylor Sen, in her book Feasts and Fasts, has reported that the arrival of pudding in India during the Delhi Sultanate from the beginning of the 13th century to the middle of the 16th century.
It happened till According to the information received, the first known recipe for making halwa is in the book 'Kitab al-Tabikh' written on recipes by Muhammad ibn al-Asan ibn al-Karim in the 13th century.
Information about eight different varieties and their recipes is given.
This is how 'Halwa' came to India
It has also been said that the arrival of halwa in India came from two places. One, from the sea shores of South India, where Arabic and other merchants landed, and due to them, the prevalence of halwa increased in South India. Second, the Mughal and earlier Muslim rulers, who came to Delhi and included halwa in their food, became famous as a confectionery in North India. At present, halwa is very popular in most of the countries of Asia, while in western countries, there is a trend of confectionary 'pudding', a similar form of halwa since years ago and it is still alive today.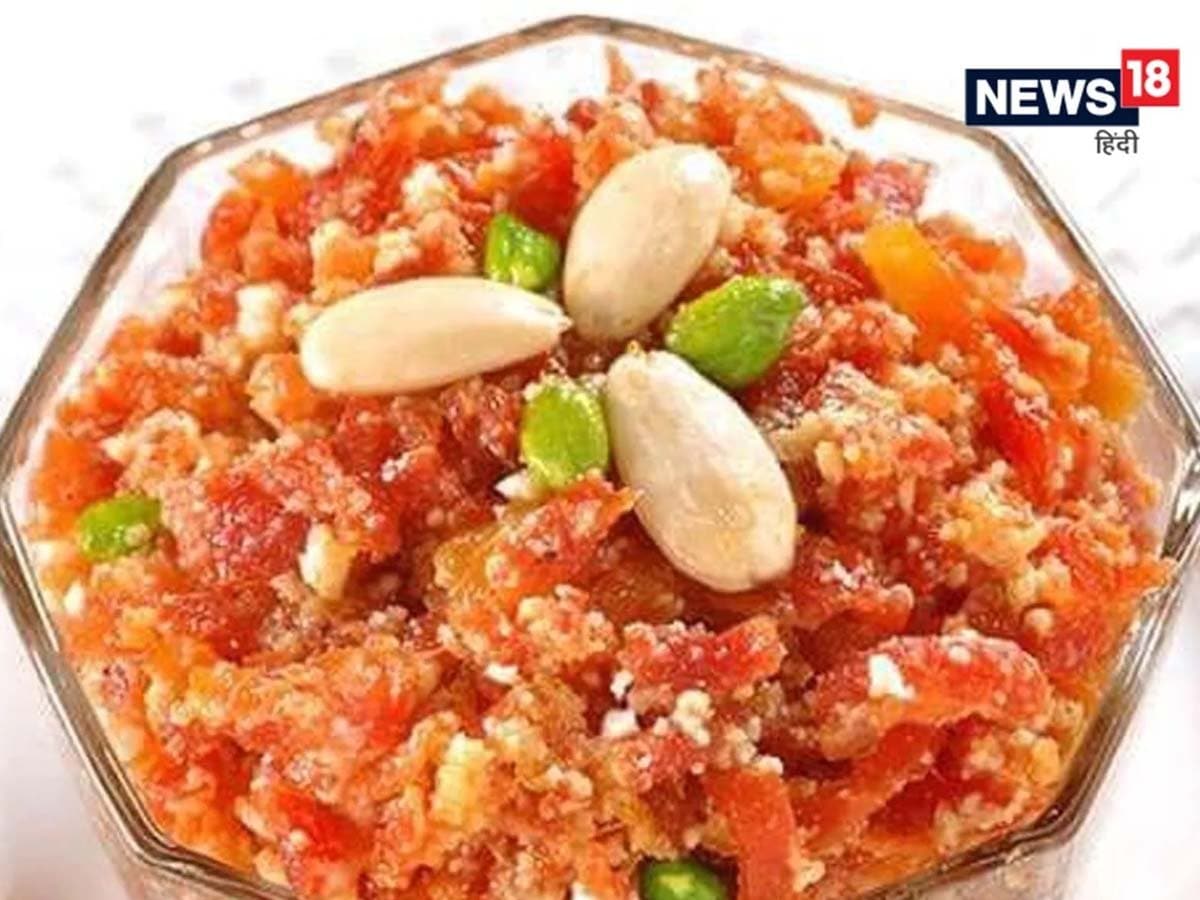 It was also found in the research that the variety of halwa in India is hardly found in any other country in the world.
At present, halwa is going on all over India. From Kashmir to Kanyakumari, one will get to eat halwa in some form or the other. The two most popular forms of halwa are semolina halwa and gajar ka.
Sweet. Moong dal halwa is also earning a lot of name. Flour pudding is available to the poor. Apart from this, according to the states, the color of halwa is also mixed. Among them, semolina and carrot halwa in Hindi speaking states, Cholera dal halwa of West Bengal, Kashi (petha) halwa in South India, Karutha halwa, Rava Kesari, Mysore Pak etc. are famous in similar forms of halwa. Kozhikodan Halwa is one of the famous dishes of Kerala.
It was also found in the research that the variety of halwa in India is hardly found in any other country in the world. There is a lot of desi ghee and dry fruits in the halwa. Now from green chillies, eggs to non-veg pudding has also come in trend. Dietician Rama Gupta says that since halwa is digestible, it is prepared in a very sattvik way and is easy to prepare, hence it has many fans in India.
Be the first to read breaking news in Hindi News18 Hindi | Today's latest news, live news updates, read most reliable Hindi news website News18 Hindi |
Tags: food, Lifestyle
FIRST PUBLISHED : June 05, 2022, 08:32 IST