Life Threat and Expectancy After Heart Attack: Suppose you got a heart attack and luck saved your life. Now someone can tell you that if you will die within the next 30 days due to heart attack or to what extent the threat to your life has been averted, then how will it be. You will say that if this is possible then it will be nothing less than a miracle. So sir, this miracle has now become possible.
Actually, GB Pant Hospital in collaboration with IIT-Delhi has prepared a Merc Model, which will be able to read your body parameters and tell how long your 'lifeline' is now. To understand the Merck model completely, News18 Hindi spoke to Dr. Mohit Gupta, Senior Cardiologist, GB Pant Hospital and 'Father' of Merck Model. Here are the highlights of the conversation….
Question: How do you see the usefulness of the Merck model based on artificial intelligence?
Dr. Mohit Gupta: In our country every year 14 to 15 lakh people are suffering from heart attack and every day about 1200 patients die due to heart attack. At the same time, such heart attack patients, whose lives have been saved, till now it could not be said with certainty whether there would be any threat to their lives in the next days or not. With the introduction of the Merck model based on artificial intelligence, it has become very easy for us to calculate how likely a patient is to survive in the next days after a heart attack.
Question: Before the Merck model, how feasible was it to estimate the life and death of a heart attack patient?
Dr. Mohit Gupta: It is not that we did not have the sources to estimate the probability of death after a heart attack. We had sources from some other countries including America, with the help of which we could estimate the patient's life expectancy and the possibility of death after heart attack. But, all these foreign sources were not very effective in the Indian context, due to which a major reason is considered to be the parameters used in the source. Actually, the parameters that were used while making the foreign source were all based on the foreign national and the conditions there, which we cannot compare at all with the Indian conditions.
Question: When did the discovery of the Merck model begin and who became a part of this discovery?
Dr. Mohit Gupta: About three years ago, we started a study in association with IIT-Delhi. About 4000 patients were included in this study and by recording about 135 parameters, they were continuously monitored. The study also included patients who died of heart attack within 30 days. During the study, every event and pattern of the patient was examined very closely. During the study, we also used old models and we entered all these parameters using artificial intelligence in collaboration with IIT.
Question: What is the full story behind the existence of Merck model based on artificial intelligence?
Dr. Mohit Gupta: During the study, we identified 31 such parameters out of 135, which became responsible for the death of the patients or proved to be useful in saving lives. We developed these parameters as a tool and started testing it on four thousand patients. An in-population study of this tool was also done and it was found that the accuracy of this tool was up to 85 percent. This figure is considered very good in the medical field. After the success of this tool, we redesigned it and developed it as a mark model. Now with the help of this tool, the life of heart attack patients can be saved.
Question: How will the mark based on artificial intelligence prove to be helpful for heart patients?
Dr. Mohit Gupta: We all know that we have very limited resources in hospitals. Therefore, resources should be used where they are needed the most and get the right benefits. Suppose two people in my hospital have a heart attack. And through the model I know that the probability of death of one patient is about 20 percent and the probability of another is 5 to 10 percent. So, my first priority would be the first patient. I can increase his life expectancy through medication and monitoring. In this way, the rate of post heart attack deaths every year can be reduced.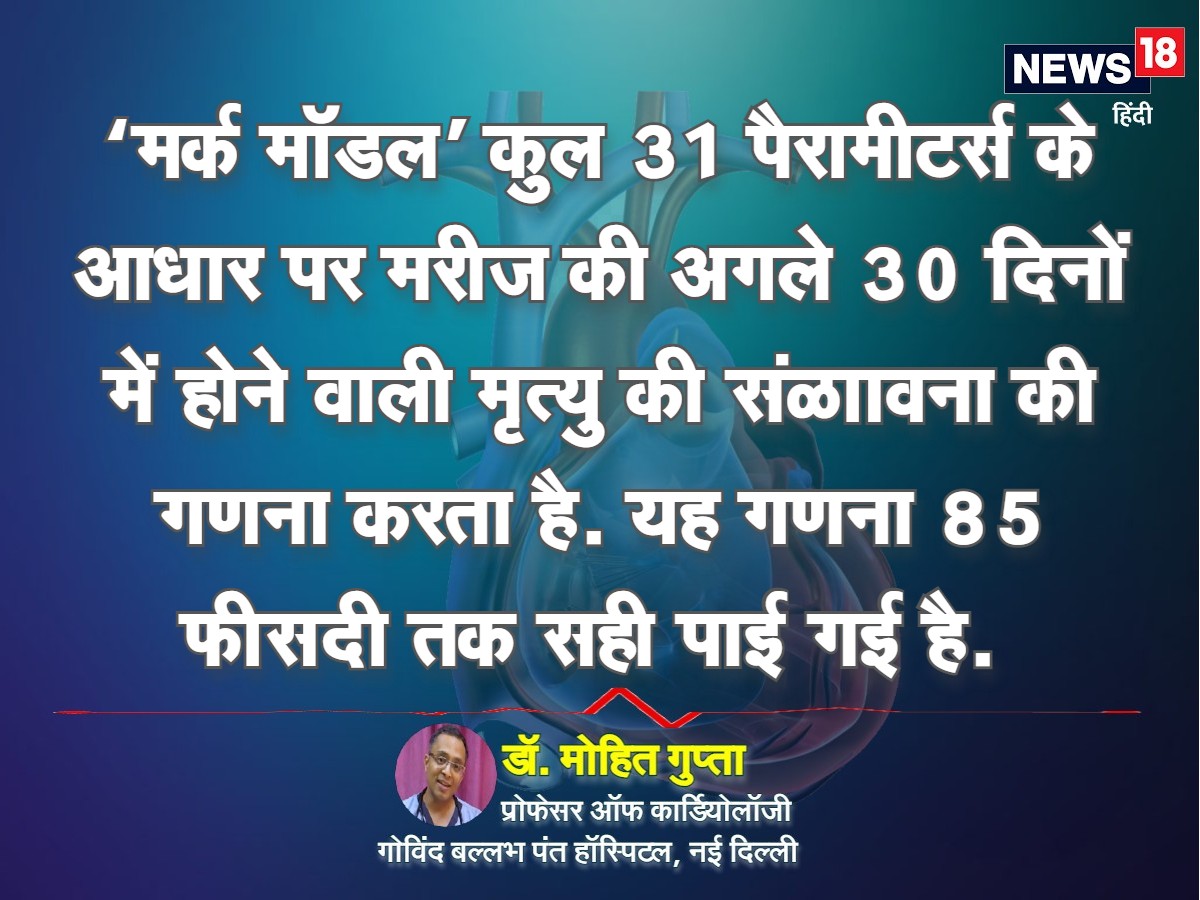 Question: Can you explain with an example how the benefits of the Merck model will be passed on to the patients?
Dr. Mohit Gupta: One patient had a heart operation. After the operation, he stays in the hospital as per the requirement and then gets discharged. The patient's report at the time of discharge is normal and he looks absolutely fine. In such a situation, as a cardiologist, there is always an apprehension in my mind whether my patient will be fine for the next 30 days or not, he will have any kind of medical complication. Now I can clear my apprehension through Merck model. With the help of this model, I will know what is the probability of death and what parameters can be responsible for it.
Question: Will the benefit of Merck model be available to North Indian patients as well as patients from other parts of the country?
Dr. Mohit Gupta: At present, this study has been done only on patients from North India and the parameters included in this study are in line with North Indians. As you know that the lifestyle, food habits, climate and environment are different in our country. This mod is yet to be studied in other parts of the country, which will be completed soon. It is our endeavor that this model reaches all the hospitals in the country, so that the priceless lives of heart attack patients can be saved. Our study has also been published by the International Journal of Cardiologists.
Question: What is the information from which the Merck model calculates the probabilities of life and death?
Dr. Mohit Gupta: The patient's age, gender, blood pressure, sugar, hypertension, hemoglobin, serum-creatinine, family history, physical activity are included. Apart from this, whether the patient was unconscious, whether there was chest pain, sweating or not, whether there was any leakage in the heart, whether there was heart failure, whether the patient was brought to the hospital on time or delayed Information about which heart muscles are problematic, blood flow in the heart, whether the stunting happened before or after 12 hours, etc. is filled in the model. Questions like what medicines the patient is taking, how much they smoke, how much the heart is pumping, are also helpful in estimating life and death.
Be the first to read breaking news in Hindi News18 Hindi | Today's latest news, live news updates, read most reliable Hindi news website News18 Hindi |
Tags:, Heart attack, Sehat ki baat
FIRST PUBLISHED : June 19, 2022, 06:00 IST