Highlights
Pizzas of 18 varieties are available at Pizza Corner.
The price of pizza ranges from Rs 50 to Rs 330.
Pizza outlets were opened in Delhi in the mid-eighties. Its first outlet was of a foreign company which was opened in Connaught Place. People showed some interest when they came to know that Italian food (pizza) is served here. But its texture, shape and ingredients were completely different. The people of Delhi did not enjoy its dry and dry taste and showed displeasure about it. But this Italian dish slowly climbed on the tongue of the people of the world and India and it mixed such a juice in the tongue of the people that what the youth, people of every age group became crazy about it.
Today big multinational companies are making pizzas of many flavors and serving them to the people. The eaters are enjoying them. Now its outlets have also opened at the local level, which are seen giving 'bump' to big companies. The reason is that the ingredients put in pizza are very common and different, hence its taste is also made.
First job then started pizza outlet
Such is the situation of pizza that in a country like India, where vegetable puri, halwa, kheer were made during holidays or festivals, now pizza is also being made in homes. Even the kids can make it. its
The 'desi' taste is also making him convincing. The whole game is about mozzarella cheese. Pour it in plenty and sprinkle readymade spices, then just have fun. Today we are taking you to a pizza outlet. A young man started it as a startup. She had worked in a large pizza company, she knew the 'secret' of the taste of pizza. That's it, the work got done.
There are about 18 varieties of pizza here and there are also small, medium and large in them.
In the DDA Market of Pitampura CU Block, it is engaged in spreading the 'Pizza Corner'. There are about 18 varieties of pizza here and there are also small, medium and large in them. That is, the child should also be happy and the whole family should also be fed.
Also read: Taste of 'Peturam Golgappa and Badshah Bhallon' will be available at 'Khomcha Street' in North Pitampura, also watch VIDEO
Rich Mozzarella Cheese Is The Secret Of Taste
The names of their pizzas are also beautiful and usually such names go on. These include Veggie Delight, Farm House, Spicy Fire, Cheese Burst, Exotica, Mexicana and Tandoori Special. You order a cheese burst. Cheese is stuffed in the pizza base by cutting it in the middle. This base is left to cook in the oven. When the cheese melts, it is taken out and the pizza sauce (topping) is done on the base. After that chopped onion and capsicum are spread. Then a lot of mozzarella cheese is filled.

Normal paneer is also cut and kept on top of it. On top of this, olive fruit is cut and mozzarella cheese is spread on it once more. Then it is left in the oven for some time to cook. When everything melts, it is taken out and served with oregano leaves, red chili flakes and other delicious spices. Mind and soul satisfied in one byte. Eat and be satisfied. The price of all their pizzas ranges from Rs 50 to Rs 330.
Also read: Ghalib's street will have a unique taste of namkeen, visit 'Jain Namkeen Corner' in Ballimaran, also watch VIDEO
Everything fresh, no compromise on quality
The specialty of their pizza is that it is not avoided to put the topping of mozzarella cheese in it, and this is the life of the pizza. Children, young men come, eat and pack them and take them away. This outlet is being run by 21-year-old Vineet Kumar. After doing B.Sc in a college in UP, he initially worked as a chef in a big pizza company. Learned how to make pizza for six months and went to Delhi. Opened an outlet here. There was experience. The outlet is out. This work has been going on for a year.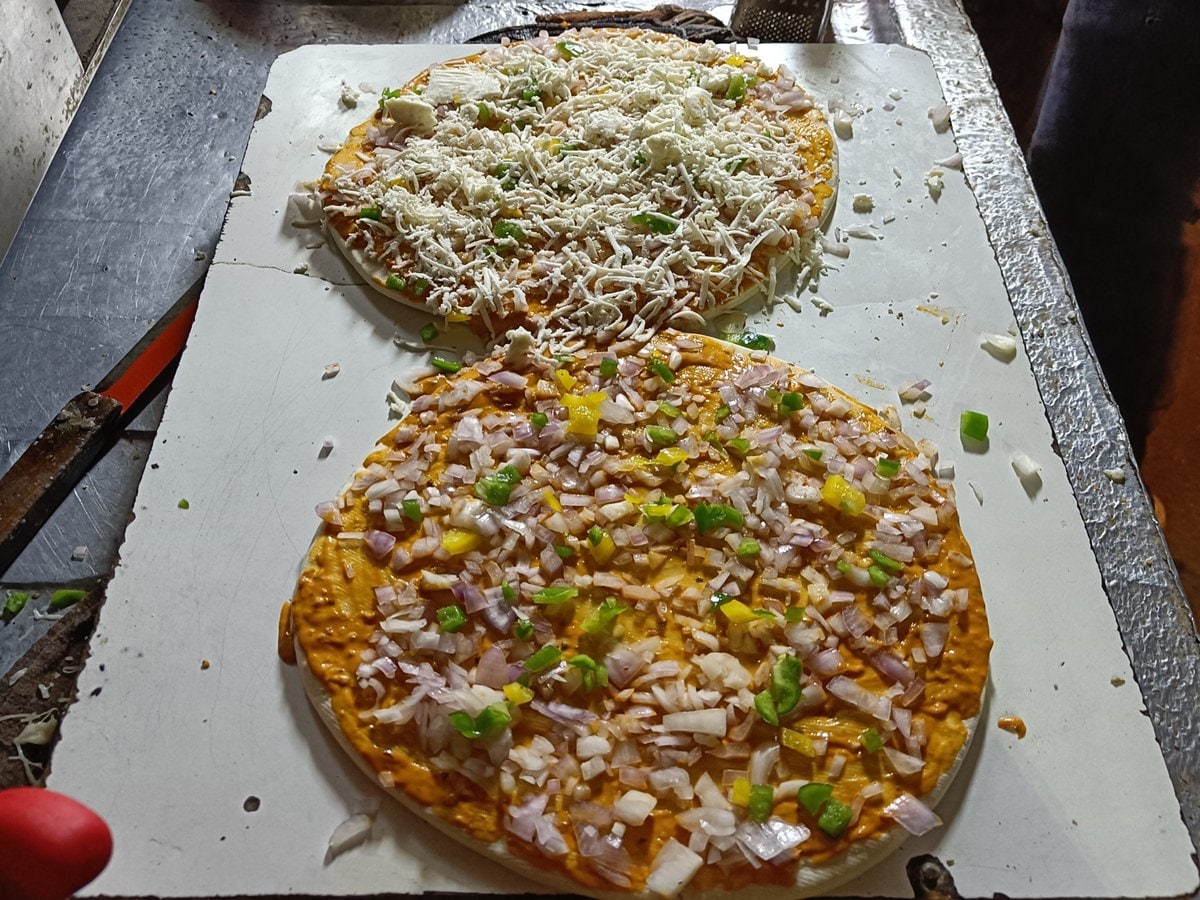 The price of all the pizzas found here ranges from Rs 50 to Rs 330.
He says that if the basic ingredients of pizza are put in enough, then it will be sizzling in the oven and its taste will be great. Everything is fresh, no compromise on quality. From 5 pm to 11 pm, there is movement of people at the outlet. There is no holiday. The nearest metro station is Pitampura, but it is one and a half kilometer away. Take a rickshaw, it will be better.
Be the first to read breaking news in Hindi News18 Hindi | Today's latest news, live news updates, read the most reliable Hindi news website News18 Hindi |
Tags: food, Lifestyle
FIRST PUBLISHED : August 10, 2022, 08:48 IST