highlights
About 400 varieties of chili are grown all over the world.
America's Carolina Reaper chili is the hottest chili in the world.
Kashmiri red chillies are rich in Vitamin C.
Swad Ka Safarnama: Indian people eat a lot of spicy food in food and for this they use a lot of red-green chillies, black pepper, hot spices etc. The surprising thing is that the 'arrival' of red chillies in India happened only a few hundred years ago. Despite this, the country has taken a lot of 'redness' in the production of red chillies. Many types of red chillies are grown in India, which differ in color and sharpness. Kashmiri red chili is also one of these, which is well known for its excellent red color and less pungency. The special thing is that it is also special in qualities. This chilli is rich in Vitamin C and increases the body's immunity (the quality of fighting diseases).
When black pepper went, red pepper came to India.
First let us talk about chili. The cuisine of Indians has included pungency for thousands of years. But red chili (obtained by drying green chili) came to India about 700 years ago. In fact, the history of chili is considered to be about 5000 years old and food experts believe that it first originated in the Mexican territory, from there it spread all over the world. The credit for bringing it to India is given to the Portuguese merchant Vasco da Gama (life years 1460-1524), who landed on the coast of India to get black pepper. The color of this chilli (green-red) not only attracted the people of India, they were also overwhelmed by its unique pungent taste and by experimenting with various hybrids they raised their own 'color' in the 'world of chillies'. Collected.
from your city (Delhi-NCR)




Do not make these mistakes while taking a bath, you may have to go to the hospital




UP: Yogi government will run a campaign to take destitute animals to cowshed, know the complete plan




Delhi: Dispute between neighbors over pet dog, then threw acid… Police engaged in investigation; Know the whole matter




Bank officer turned out to be a fraudster, transferred Rs 19 crore from customers' account to his account




Dry mouth and sudden increase in thirst, there is no sign of serious illness, be alert




Delhi Airport: Took advantage of the mistake of passengers, became a millionaire in a few months, will now grind 'chakki' in jail




Delhi: 2 grenades and human blood found from terrorist's room; Is this 'Sir Tan Se Judaa' Part 3? Big disclosure of arrested accused




Don't make this mistake while buying saree-lehenga in Chandni Chowk, you may get cheated




Punjab will get 400 new Aam Aadmi clinics after Republic Day, CM announced




Delhi Airport: Used to keep bad intentions on the luggage of passengers, police arrested 8 loaders, have spent lakhs
India accounts for 25 percent of the total production of chilli. Image-Canva
Today India exports this chili to America, Germany, Canada, Britain, Saudi Arabia, Germany and other countries. The situation is that India accounts for 25 percent of the production of chillies in the world.
Read this also: Safarnama of Taste: Dry ginger market was opened in Agra in Mughal period, this spice beneficial for health has interesting history
Different types of chili other than Kashmiri
It has always been the specialty of the people of India that if they adopt any foreign item or system, they not only indigenousize it, but also leave no stone unturned to expand it. He did the same thing with chili. Kashmiri red chili is also one of them. Apart from this, Guntur red chilli is grown in Andhra Pradesh, whose color is deep red or maroon and it is considered one of the hottest chillies. Byadgi is grown in Karnataka, which is deep red in colour, but it does not have much pungency. He also grew the Beriya chili, which looks like a plum, which is known for its unique shape. This chilli with medium pungent taste is used in lentil soup or curry.
Sankeshwari chilli, one of the hottest chillies in the world, was grown in Maharashtra. It has so much pungency that it has to be used very carefully. Apart from this, Dhani, Kaddi, Elachipur, Hindpur, Jwala, White Kanthari chillies are also being grown. The special thing is that around 400 varieties of chillies are grown in the whole world. These include America's Carolina Reaper chili, which is considered the hottest chili in the world. Due to this sharpness, the name of this chili is also recorded in the Guinness World Record.
Kashmiri red chili adds bright color to the food
The name of Kashmiri Red Chilli itself tells where it originated. According to the Indian Spice Board on this issue, apart from Jammu and Kashmir, this chilli is grown in Himachal Pradesh. Apart from this, now it grows in North India in winter. Whole dry Kashmiri chillies are medium and cone shaped, wrinkled, dark red in color and thick skinned. The pungency is of a moderate level, but the deep red color of whole or crushed chillies adds vibrant and bright color to the food. The specialty of this chilli is also that it provides less heat in the body as compared to other red chillies.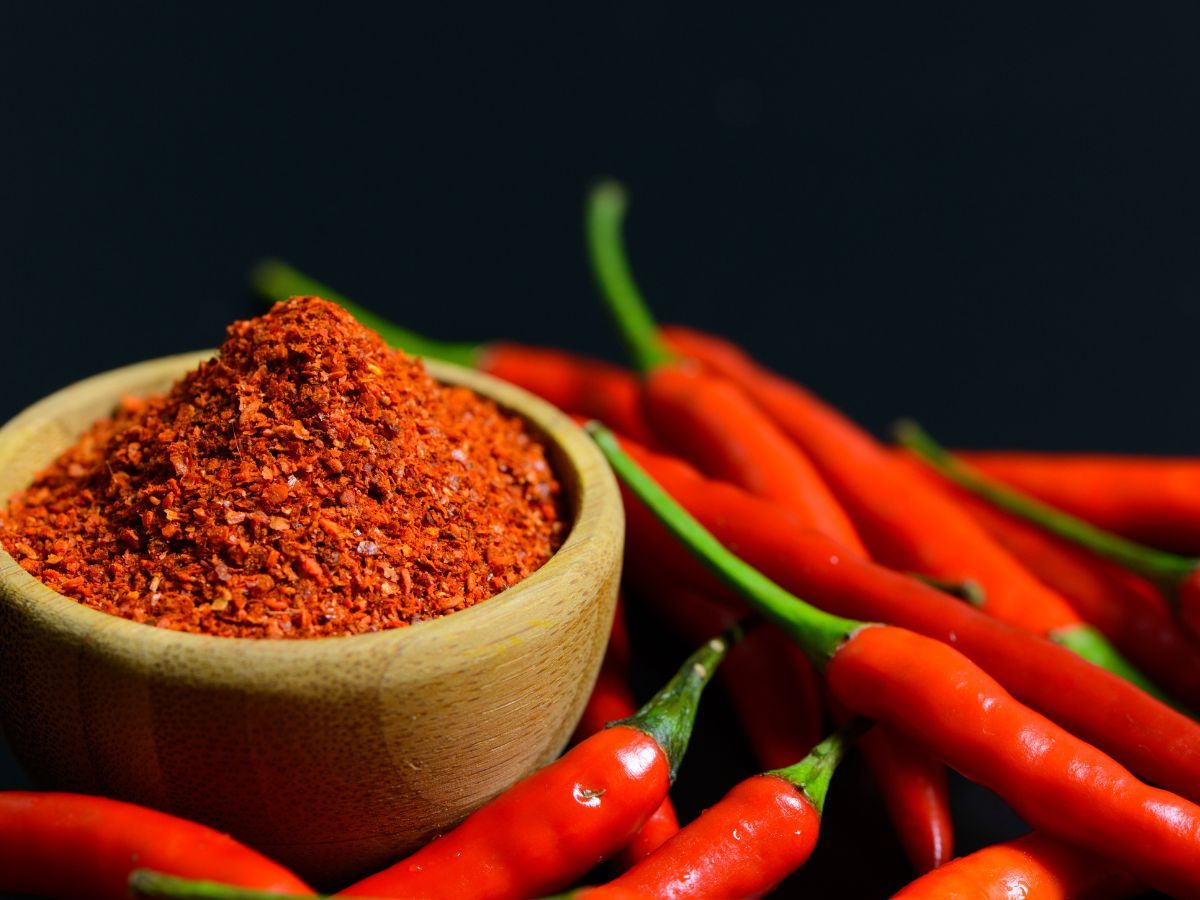 Kashmiri red chillies also contain minerals like iron, potassium, copper and manganese. Image-Canva
According to well-known dietician Dr. Anita Lamba, Kashmiri red chillies also contain high amounts of Vitamin C, Vitamin B-complex and Vitamin A. Due to these vitamins, it builds the immune system in the body and also strengthens it.
Read this also: Journey of Taste: Black cardamom is beneficial in kidney stone to heart disease, know interesting history
Reduces respiratory disorders and does not allow phlegm to accumulate
These elements found in chili keep the skin healthy and maintain the speed of hair and nails. One of its specialties is that its consumption helps in reducing respiratory disorders. It also does not allow phlegm to settle in the chest. Kashmiri red chillies also contain minerals like iron, potassium, copper and manganese, due to which the signs of aging in the body are delayed. This chili helps in reducing the harmful elements in the vegetables. When cooked in non-veg, it also reduces the demerits of fat found in it. There is no harm in consuming this chili in general, but if used in excess, it causes burning sensation in the stomach and chest. Acidity will also increase.
First read breaking news in Hindi News18 Hindi| Read today's latest news, live news updates, most reliable Hindi news website News18 Hindi.
Tags: food, Lifestyle
FIRST PUBLISHED : January 15, 2023, 07:00 IST