Highlights
There are more than 100 varieties of momos available at this outlet.
The price of momos found here ranges from 35 to 170 per plate.
Delhi Food Outlets: Let us tell you that momos are a Tibetan dish and traditionally they are made ready to eat only by steaming them with non-veg stuff. You will also know that the special dish of some countries has become very famous in India, in which pizza, noodles are included, now momos have also been included. But the talk of momos in India is unique. Here the trend of tandoori, fry has also increased with steamed momos. Many more have been added to this method of preparation, which can make their taste different. For example KFC Fry or Afghani Momos. I can say with certainty that they may have originated in India and Tibetans may be surprised to eat it.
Today we are taking you to such an outlet of momos, whose momos of more than 100 varieties will win your heart and tongue. After reaching there, you will feel that momos are available here or a special dish is being prepared.
Other than Steamed, Fry, Tandoori and more Variety
This outlet of momos is being liked by the people because the owner has done a lot of experiments to increase the variety of momos and has added different spices and ingredients to add flavor to them, so their variety and taste are pleasing to the mind. There is a DDA market in ND Block on the road outside Thana Maurya Enclave of Pitampura, on its front is 'Giri Momos Centre'. It has been run together by husband and wife for years. First look at the variety of their momos like Chicken Momos, Mutton Momos, Mushroom, Sweet Corn, Veg Momos besides Soyabean, Paneer, Mozzarella Cheese Momos.
Veg, non-veg and many types of momos burger are also available at the shop.
All of these also have different varieties, such as Steam, Fry, Tandoori, Afghani, Cocktail, KFC Fry, Manchurian, Hot Garlic etc. Whatever you eat, everyone's taste will be different. Now Veg, Non Veg and many types of Momos Burger are also available here.
Also Read: Visit 'Sonu De Special Butter Wale Chole-Kulcha' for Special Chole & Butter Filled Kulchas
Momos Burger will win both hearts and tongues
You can order KFC Fry Momosr. Steamed momos will first be dipped into the cornflour batter. When it is completely filled with it, put it in a vessel filled with dry bread crumbs and the powder will be wrapped around it. After this it will be fried in hot oil. These momos will be served with hot red chutney and mayonnaise sauce. Very crunchy from outside and soft from inside, there is something else about these momos.
If you order Chicken Tandoori Momos Burger, then first of all the steamed Chicken Momos will be served with special white and red spices solution. Put these momos in the sink and put them on the blazing tandoor. After some time butter will be rubbed on them. After it is well tandoor, mayonnaise on both sides of the burger and these momos and tomato, onion, cucumber stuff will be put in the middle. Eat it with chutney and sauce, Anand is Anand. The plate price of all their momos ranges from Rs 35 to Rs 170.
Also read: Tinda keeps the skin glowing along with strengthening the lungs, this Indian vegetable is very beneficial
Cooked for six years, then it was considered a game of taste
This outlet is run by Giri Prasad and his wife Tara Pekhriel. On the variety of momos, he says that he actually worked as a cook for six years in a famous hotel in Doha, the capital of the Gulf country. There he understood the game of taste and then came to Delhi and applied it on momos. He has been running this outlet since 2008.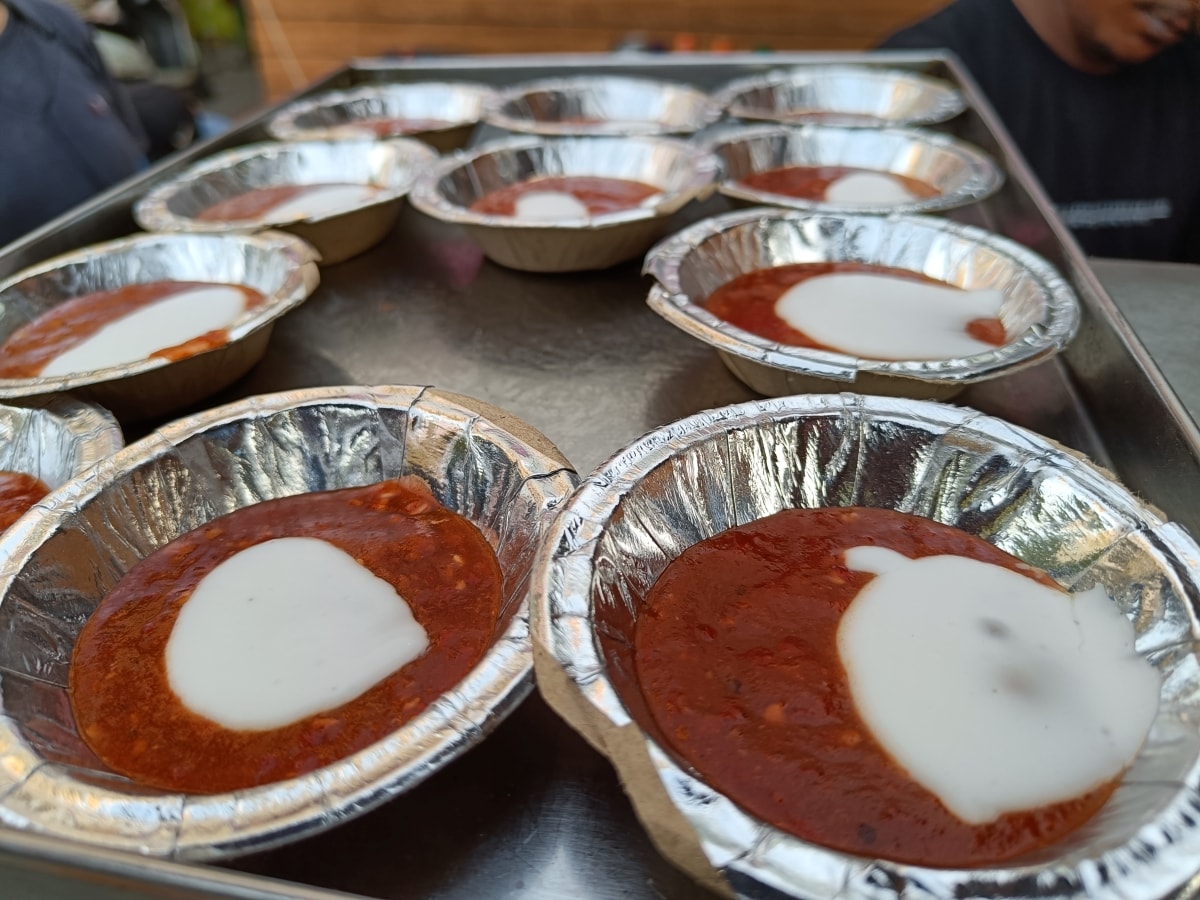 The price of a plate of all momos ranges from Rs 35 to Rs 170.
Fresh goods are supplied everyday and special care is taken that the momos with the same name should taste the same, otherwise the customer will get distracted and criticize. People come because there is a lot of variety here and the taste is also good. The work starts at 4 pm before the evening starts and everything gets settled at 10:30 pm. There is no holiday and no branch. The metro station is Netaji Subhash Place, but it is a little far away.
Be the first to read breaking news in Hindi News18 Hindi | Today's latest news, live news updates, read the most reliable Hindi news website News18 Hindi |
Tags: food, Lifestyle
FIRST PUBLISHED : September 17, 2022, 08:36 IST