Highlights
Realized in college that he could be a good comedian
Amitabh Bachchan was his first idol and also mimicked him a lot.
He also laughed a lot when he copied him in front of Lalu Yadav.
Our friends used to live in Lucknow. who was then a lyricist. Were struggling in the film world of Mumbai. He was a journalist himself but used to go to Mumbai several times a year. He often went to Mumbai to stay at Raju Srivastava's house or used to meet him. By then Raju Srivastava's life had started coming back on track. However, when he started doing standup comedy work after coming to Mumbai in the 90s, he was not accepted easily. Somewhere on his typical UP style and sometimes about the face piece.
Now that lyricist friend has also written songs for many films. have made their place. His name is Virendra Vats. We all had heard the name of Raju Srivastava in the 90s, but the way he used to discuss him every time he returned from Mumbai, we all started knowing a lot about him. He started to know how when he went to Mumbai, like all the artists, he too lived a very fun life. But soon people started recognizing his talent.
Raju Srivastava himself belonged to a lower class Kayastha family. The family was a resident of Kanpur. Father Ramesh Chandra Srivastava was an employee in Unnao court. He also used to write poems under the name of Balai Kaka. So when he decided to move to Mumbai as a comedian, his father let him go. He also supported him in the initial years, but it should be said that after moving to Mumbai, Raju made a mark by the end of the 90s after all the difficulties.
By the end of the 90s had bought a flat in Andheri
He started getting programs. Getting invited to the stage program. He started earning so much that he had bought his own small flat in Andheri in Mumbai. Which was a big deal at that time. He himself belonged to Kanpur and his in-laws were from Lucknow, so he was always heartily available to the people of these two cities in Mumbai. Those who could help, they also helped. At the behest of friends, sometimes for free and sometimes for very little money, they did shows.
When Raju Srivastava reached Mumbai from Kanpur, he was initially very rejected but by the end of the 90s, he had started making a mark. (Photo Credits: Twitter @ajaydevgn)
No matter how tense you were, but always used to laugh
He was very creative, says Virendra Vats. No matter how tense you are, but if you sit near him for a while, then all the tension disappears. He knew the art of laughing even under stress. Finding the angle in the ordinary and presenting it in his special and typical desi style by putting it in humor was such a quality that set him apart from other standup comedians.
comedy on every situation
It should be said that in fact, even after clean standup comedy, laughing and holding people laughing, he also used to leave messages of social reform in his comedy. Whether it was a railway platform or a plate of food at a wedding or traveling in a bus or village life – he was seen everywhere and he took out comedy from everywhere.
There was neither money nor respect in comedy then.
When he came to comedy in the 90s, he was a comedian in the film world but the scope of comedy was not very earning and not very respectable even though he was on stage. Leaving home and coming to Mumbai with a dream. Then it was not easy to fabricate it yourself. Today, all the stars seen in the world of standup, this has become a favorite field for the youth, for that to a large extent, one should thank Raju Srivastava, who does creative comedy, not comedy. He used to find the scope of comedy in everything and everywhere.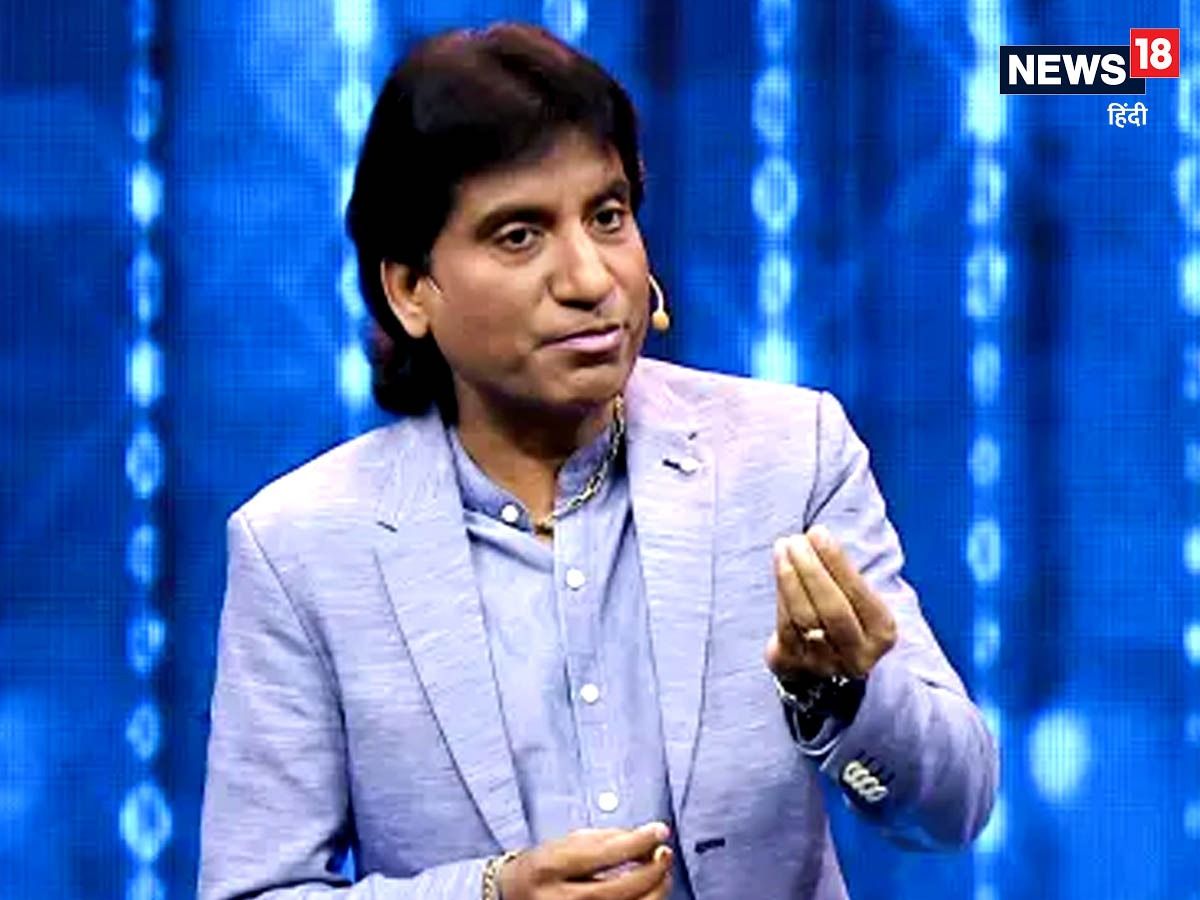 Raju Srivastava's comedy started in school and college by imitating his teachers, friends, acquaintances but whatever he used to do, he used to make people laugh a lot.
Comedy started with imitation of teachers in school and college
How did he become a comedian? After all, when did he realize that he could do this or even make a career in it – he started getting the idea of ​​this coming from school to college. Earlier he used to imitate and mimic his teachers in school and by the time he reached college, he had become an expert in it. The boys would make them stand up and then keep enjoying. In this era, apart from teachers, he started mimicking Amitabh Bachchan and politicians. Amitabh was also his first idol.
Then Raju felt, yes he has to make a career in comedy.
His friends started telling him that man, you do very good comedy, why don't you make it your career. Raju Srivastava also started feeling that yes this art is inside him, he can do something in it. It was an act of courage, but he decided to do comedy only. Surely it would not have been easy for a father to allow it in those days when it is said in the house, but when the father himself writes poetry and understands the meaning of creativity, then he must have accepted it. The father must have been convinced that whatever his son is saying, he will do it.
After The Great Laughter Challenge, he became the emperor of comedy. Then he didn't look back.
Became a star after The Great Indian Laughter Challenge
So it must be said that when he was struggling, he also had such a platoon of well-wishers in the form of family and friends, who always encouraged him. However, after the 90s, Raju Srivastava also greatly improved his comedy. Took him to a different level. In fact, he became the emperor of comedy after The Great Indian Laughter Challenge.
Gajodhar Kaka's character removed from the box
In the very first season of this comedy, the character of Gajodhar Kaka, which he removed from his comedy box, became a superhit. Gajodhar Kaka moves to Mumbai from a village in UP and has a lot to say about this city from the stars of the film world to his comical style, which also creates curiosity and laughs.
Laughter Challenge judges used to laugh holding their stomachs
Shekhar Suman and Navjot Singh Sidhu were its judges in The Great Indian Laughter Challenge. Both used to laugh at Raju Srivastava's comedy and also used to give a lot of praise. After seeing all the other contestants, he reached the final and became the winner. After this, the coin of Raju Srivastava which tossed in the air kept on tossing again. He really became a comedy star. His world started changing. His good days have come. He started getting lakhs of rupees for each show.
Lalu's superhit comedy opposite Lalu
Even after this, Raju Srivastava never left the land. Don't give up on simplicity. Did not give up his comedy related to the land. Although the temper of his comedy was very much when he used to imitate the leaders and do their comedy. Once when he kept doing comedy in front of Lalu Yadav for 08 minutes by imitating him, then the whole situation was being filled with stomach. Lalu himself was laughing. He himself also congratulated him.
what sets them apart
The biggest thing that sets his comedy apart from others is that he never did any body-shaming comedy, never vulgarity and never got sloppy. Which almost every comedian is making his weapon nowadays. Raju Srivastava is physically gone but all his comedy is scattered everywhere and will always be laughing.
Be the first to read breaking news in Hindi News18 Hindi | Today's latest news, live news updates, read the most reliable Hindi news website News18 Hindi |
Tags: Comedian, Comedy Act, Raju Srivastav
FIRST PUBLISHED : September 21, 2022, 13:13 IST