Highlights
Two youths from Old Delhi have started Khomche's startup.
Along with the taste of the food dishes of the shop, the name is also unique.
The price of all the food items found here is between 50 to 90 rupees.
Khomche itself means chaat-dumplings. Once upon a time, this khomcha used to reach the katras, streets and kuchanas of Old Delhi and feed the people with chaat-dumplings. Now the atmosphere has changed. The taste of Khomche is showing in the whole of Delhi. Today we are going to introduce you to such people. Two sons of the family confectioners of Old Delhi have brought this 'Khomchebaazi' to North Delhi after studying and writing. The startup is his, but he believes that he has 'Khomcha' in his DNA, so he will show success here as well.
From Paturam Golgappe to Badshah Bhalle there are varieties
The dishes of Khomche captivate the tongue. In this, curd-bhalle, bhalla-papri, golgappa, potato tikki chaat are there, as well as spicy water also dissolves the juice in the tongue. With the changing times, more items have been included in the khomcha, which are enticing the people. Now all this flavor has reached the QU market of Pitampura, a posh colony in North Delhi, which has been named 'Khomcha Street'.
As delicious as the food items found here, their names are equally unique.
The educated sons of the family confectioners of Old Delhi started it as a startup, so to entice the people, the names of the dishes have also been kept differently, such as Paturam Golgappa, Badshah Bhalla, Bubbly Aloo Tikki, Delicate Paneer Tikka, Nawabi samosa chaat is not only there, veg kebabs, bhelpuri, pav bhaji have also been included for the new age.
Also read: Ghalib's street will have a unique taste of namkeen, visit 'Jain Namkeen Corner' in Ballimaran, also watch VIDEO
Everything is fresh and tastes great
Introducing you to their Badshah Bhallas. Their Bhalles are not common, they look like salty rasmalai. Two Bhallas are placed in a plate, boiled potatoes and gram are spread on them, their special chaat masala and salt are sprinkled on top, then a thick layer of thick curd flavored with cardamom is spread, along with dry ginger (saunth). Sweet chutney), green chutney and also Kachalu filled with spices. At the end beetroot and carrot sticks are added and it is served with salted bhujia. Eat it and have fun. This Badshah Bhalle can be enjoyed in just 60 rupees. Sometimes the taste of curd is coming in the mouth, sometimes sweet saunth and sometimes bitter gourd. Very fresh and delicious taste.

Old Delhi's special breakfast will be available on Sunday
These boys have started veg kebabs to attract the youth, which are rarely seen on the khomcha. Stuffed with gram dal, soya, whole coriander and other spices, these kebabs are served in the same way as non-veg kebabs. The fun of eating them with green chutney, onion slices is different. The cost of these four kebabs is also Rs.60. About 20 items are being served in this shop.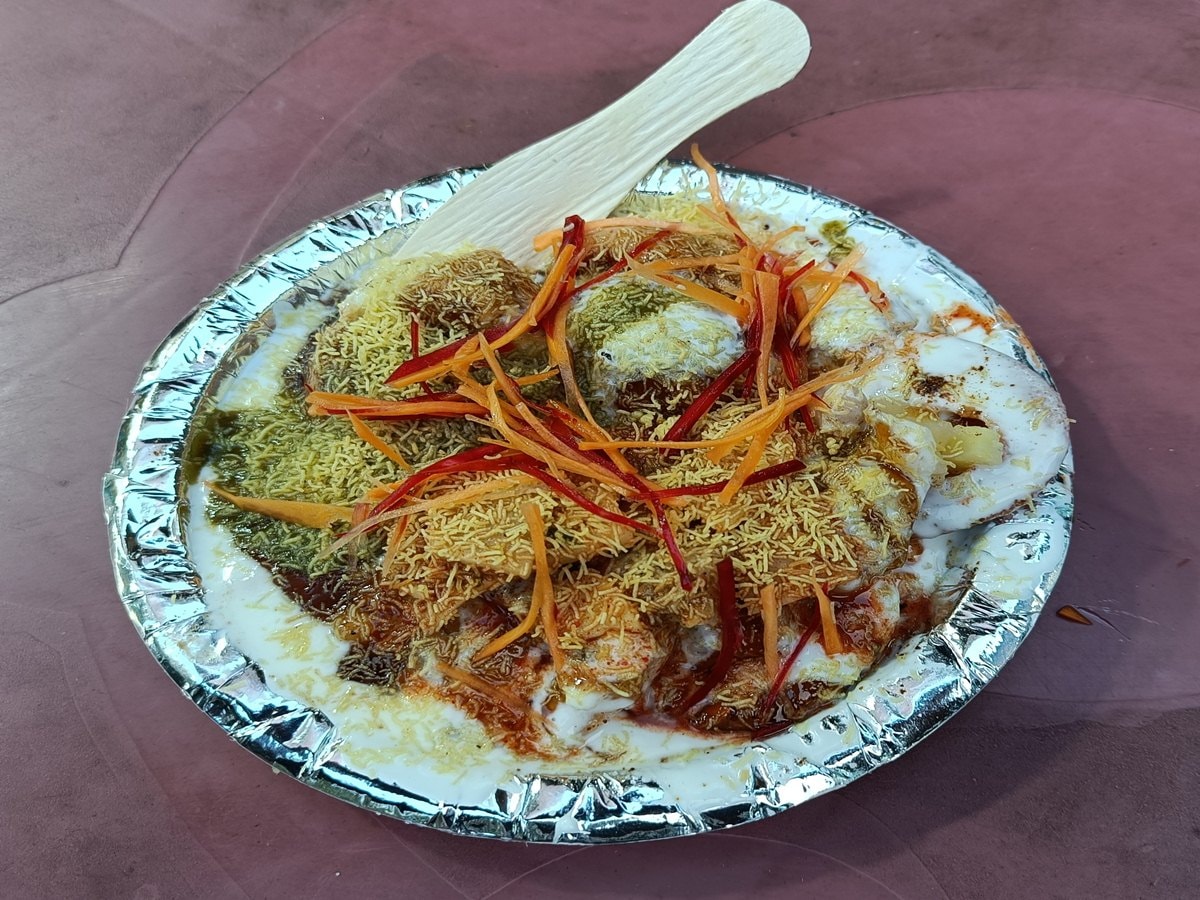 All the items in the shop are priced between Rs.50 to Rs.90.
From morning till noon all these items are made and decorated properly from noon. On Sunday mornings, the special breakfast of Old Delhi is Bedmi Puri and Aloo Chole ki Sabzi, Puri Chole with fenugreek chutney and vinegared onions. Crispy Kachoris can also be enjoyed in the morning. All these items cost between Rs 50 to 90.
Also read: Visit 'Jain Coffee House' in Chavadi Bazar to taste amazing fruit sandwiches, also watch VIDEO
Startup of young sons of family confectioners
This 'Khomcha Street' has been started as a startup by two young brothers Karan and Shivam Gupta. One of them has done MA English and the other has done B.Com and has taken Chef's diploma. He has a family confectionery business in Old Delhi, which was started by his grandfather. Both the brothers took care of the household, worked as chefs in the hotel and opened their work four months ago. He says that fresh food is prepared everyday. It's a lot of hard work. Have to get involved in work since morning. Then in the afternoon the decoration has to be done which lasts till 10 pm.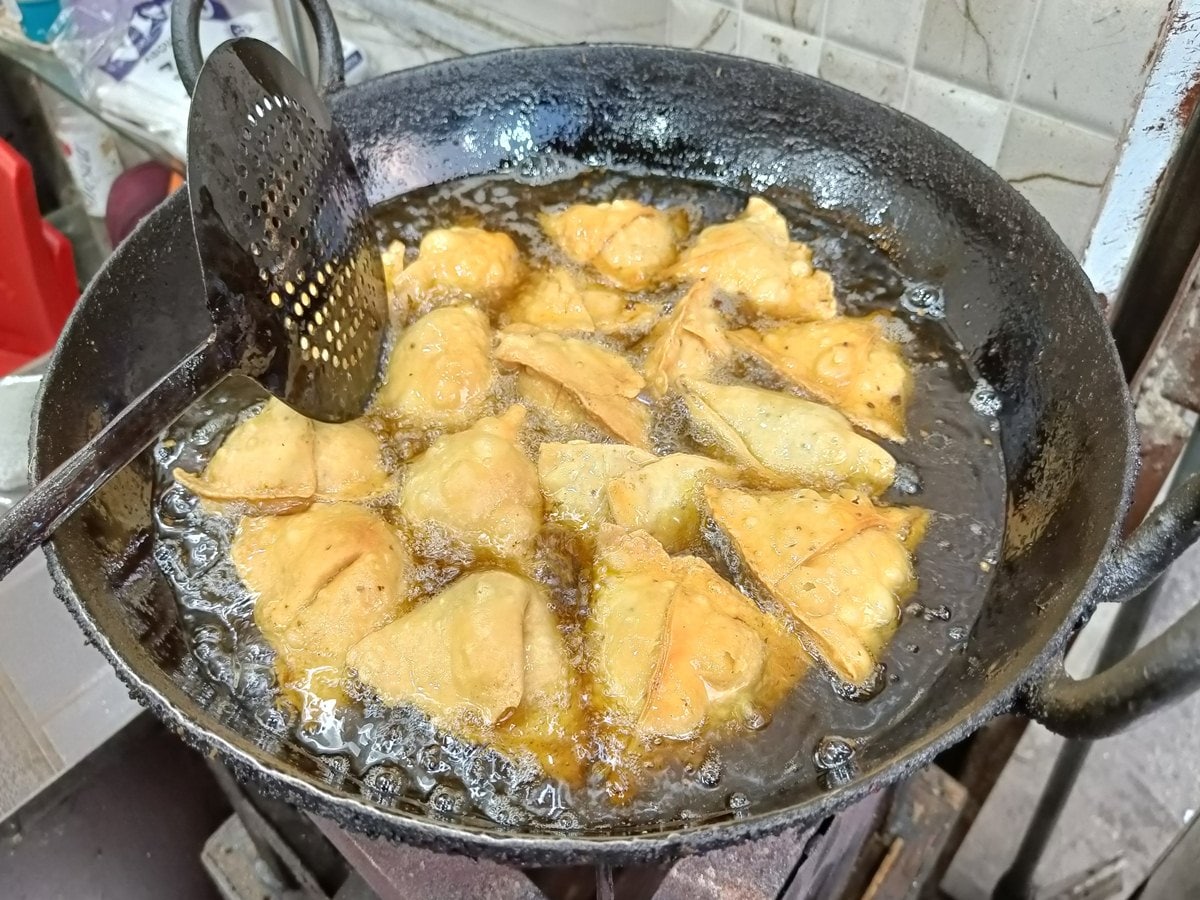 This sweet of Khomche has been started by two youths. The taste of this place is very much liked by the customers.
All our items are self-prepared, be it spices or bhalles, even the kebabs are made by both the brothers themselves. People are also believing that their taste really touches the heart and stomach. There is no holiday. Metro station is Pitampura, but will have to come by rickshaw. The Outer Ring Road is adjacent, so there is no problem of commuting.
Be the first to read breaking news in Hindi News18 Hindi | Today's latest news, live news updates, read the most reliable Hindi news website News18 Hindi |
Tags: food, Lifestyle
FIRST PUBLISHED : July 30, 2022, 08:55 IST