Highlights
More than one and a half dozen non-veg dishes are available at this food outlet.
The price of the things found here ranges from Rs 200 to Rs 760.
Swad Ka Safarnama: It is being claimed that western countries are constantly getting away from non-veg and giving priority to vegetarianism due to special reasons. But now the trend of non-veg is gradually increasing in India, which is famous as a vegetarian country. The special thing is that the youth are falling in love with non-veg dishes a little more. Traditional non-veg food is available to woo the youth, while Mughlai, Chinese, continental dishes are also available in abundance. In this episode, non-veg items filled with spices on a big pan are also earning a lot of name. There has also become so much variety of pan items that people's fascination is increasing in them. In this episode, today we are taking you to one such outlet, whose special Tawa items will fill your body and mind with taste.
One and a half dozen non-veg special dishes filled with desi ghee
Actually the non-veg items connected to the tawa are somewhat different. They are neither completely dry nor filled with gravy. Special spices, tomato-onion puree and ginger garlic, chopped green chillies and green coriander add a different taste to it. These dishes can neither be given any separate name nor are they specifically associated with any state. It is made simply by frying on the pan and adding spices, so it is special. If these items are being roasted in desi ghee, then the answer is no. At the outlet where you are being taken, the non-veg items are wrapped in desi ghee, special spices and purees to enhance the taste.
Around one and a half dozen chicken and mutton items are present here, exuding the fragrance of desi ghee.
Next to Ramlila Ground in Pitampura is LU DDA Market, in the same market 'Bengal Bar-Bay-Que' is open. Although there are many items of non-veg at this outlet, but about one and a half dozen special items made of chicken and mutton pan, smelling of desi ghee, will show a different color and feel the taste.
Also read: More than 100 varieties of momos will be available at 'Giri Momos Centre', come and taste it in Pitampura
Special gravy and spices add flavor
Listen to the names of two to four items Tawa Chicken, Tawa Chicken Tikka, Chicken Chap, Chicken Sink, Mutton Tikka, Mutton Chap, Special Tawa Meat, Kidney Campure, Keema-Kaleji, Magaj, Tawa Tangdi and Tawa Wings apart from Special Sharabi Da Tikka is also available. Varieties of special and boneless are also present in these. You order an item of chicken. First of all, desi ghee will be poured on a hot griddle. In this, chopped tomato-onion will be fried till brown. After this, a paste filled with ginger-garlic and spices will be roasted for a long time. After roasting, the pieces of chicken roasted in the tandoor will be put in this paste and roasted on low flame for a long time. After roasting, chicken mince gravy made of special spices will also be added. When this item is roasted well, then after adding green coriander (if special, cream etc.) will be served. When it is made in this way, then the taste will be full.
There is a facility of packing here, you can also eat if you want. Along with this, roomali, tandoori roti and other types of roti are present. All these items are available quarter, half and full and their price ranges from Rs 200 to Rs 760.
Also Read: Visit 'Sonu De Special Butter Wale Chole-Kulcha' for Special Chole & Butter Filled Kulchas
Diploma in Hotel Management came in handy
This outlet was opened four years ago. By the way, raw non-veg (chicken, fish, mutton) is also being sold by this family in the market since 1998. It was started by Rajendra Kumar. Today the outlet is also earning a name. It is being run by his son Jitendra Kumar. His nephew Pankaj Kumar is helping him in this work. He has done Diploma in Hotel Management, so he is confident.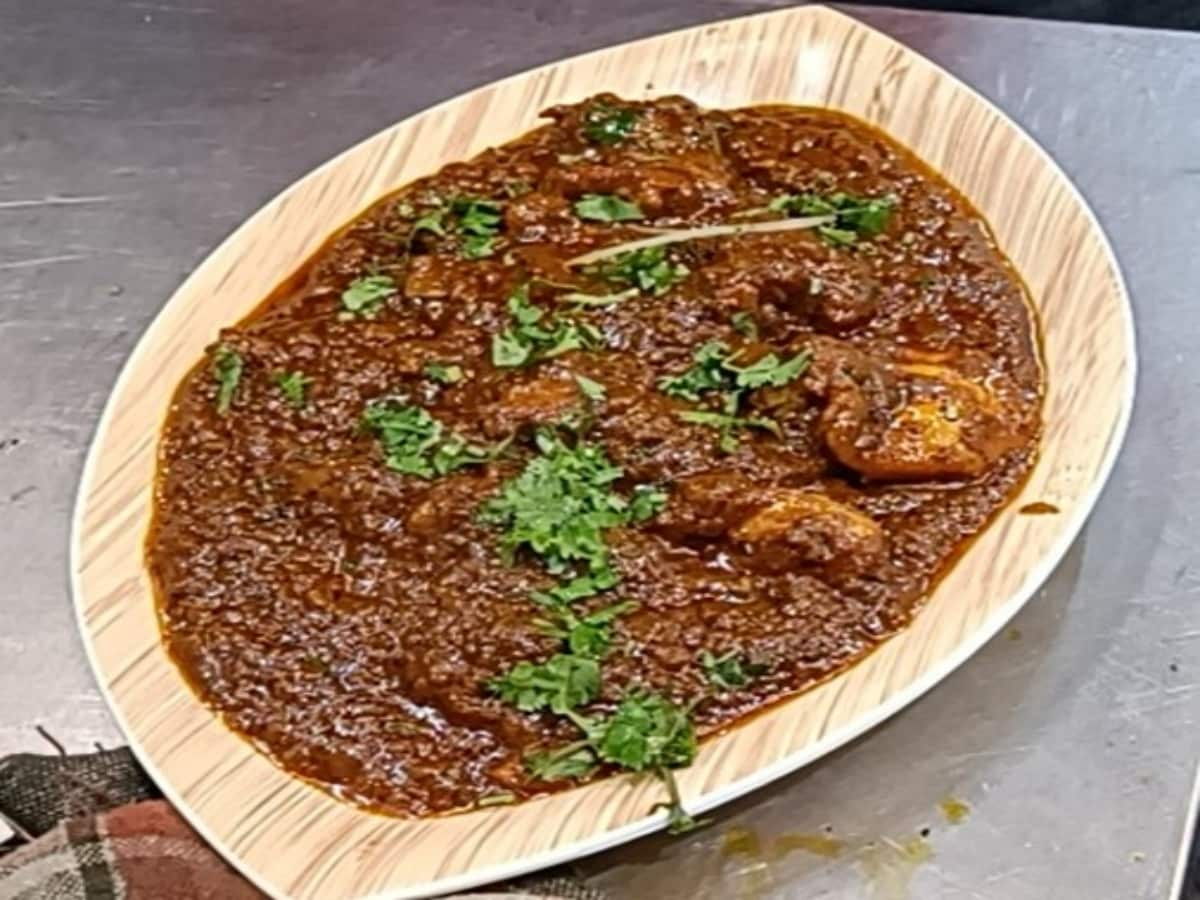 The price of food items found here ranges from Rs 200 to 760.
They say that we already knew about the variety of non-veg and also knew what type of non-veg people eat. Our family is related to Old Delhi, the understanding of spices and taste was already there, so the outlet was opened. All the goods are fresh, this is our specialty and the whole area knows this. Getting a lot of response. Butter Chicken and Chicken Barra are also making a name for our specialty items. Lunch time is from 1 pm to 4 pm and dinner time is from 6 pm to 10 pm. Tuesday is a holiday. The metro station is Pitampura but from there one has to come by rickshaw.
Be the first to read breaking news in Hindi News18 Hindi| Today's latest news, live news updates, read the most reliable Hindi news website News18 Hindi|
Tags: food, Lifestyle
FIRST PUBLISHED : October 08, 2022, 06:58 IST