Highlights
From poems, poetry to films, roti has a special 'role'.
Due to less calories in roti, it keeps obesity under control.
Bread is the main source of food for Indians as well as residents of South Asia. Rice etc. are also eaten a lot in these areas, but the stomach and the mind are satisfied only by eating roti (chapati). Whether it is a veg vegetable or non-veg, its enjoyment increases with roti. Bread is an essential food for a healthy body, the reason for this is that it has many properties. It creates life in the body. Writers, poets have written a lot on the bread eaten for years, because they believed that only bread can quench hunger.
Roti shows hundreds of dances
Roti has also shown many 'colours' to the poets. They have spoken different things on its mood. One of the famous riddles of the Sufi poet (13th century) Amir Khusro 'Why did the roti burn? Why did the horse stall? Why is the paan rotten?' There is mention of bread. The answer is 'Pera (reversal) was no.' That 'patras' dishes to be counted, multi-variety kitchen. Saras Kanik Besan Millai, Ruchi Roti Poi. When rotis come in a man's stomach.
Also read: Carrot cleans the blood along with keeping the brain healthy, this vegetable rich in vitamins has an interesting history
From poetry to films
In the freedom struggle, the 'Chapati (Roti) Movement' had troubled the British a lot. At that time the folk songs made on this movement inspired people to take part in the freedom struggle. Even the poets of modern times have been wooed by bread. National poet Ramdhari Singh 'Dinkar' has written in his famous poem 'Roti aur Swadhinata' that 'Azadi is not bread, but, there is no animosity between the two. But if there is hunger somewhere, then freedom is not good. The country's famous poet and film lyricist Gulzar, referring to the famous litterateur Premchand's story 'Idgah' in his biography 'Boskiyana', has said that 'I miss reading 'Idgah'. It was the story of Munshi Premchand. The story is of a child who sees his grandmother picking up rotis that are torn by hand. That is, bread is everywhere.
The 'Chapati Movement' had troubled the British a lot during the freedom struggle.
Movies are also unique. In the year 1942, Mehboob's film 'Roti' and Rajesh Khanna's film of the same name (1974) created panic. In the year 1974 itself, Manoj Kumar's film 'Roti, Kapda Aur Makaan' was a huge hit, while Bhojpuri artist Khesari Lal Yadav's song 'Saiya Ke Belal Roti Khaylu E Jaan' was sung by more than 14 crore people on social media. .
Also read: The use of 'fennel' was used to reduce the effect of snake, scorpion venom, there are many interesting things related to this Indian spice
Bread was being eaten even in the Indus Valley civilization
Roti is believed to have originated in the Indian subcontinent. It is being eaten in India and surrounding countries even today. Its history is very old. Since wheat was being grown in the Indus Valley Civilization (3500 to 2500 BC), bread was also being cooked and eaten there. There are also claims that the bread originated in East Africa, where Swahili people ate flat bread or roti. According to a recent research, researchers have found a place in North-East Jordan, which is said to have been cooked flatbread, ie bread, about 14 and a half thousand years ago. There bread was cooked in a stone stove. According to the news of The Hindu, researchers have also found that stone stove from the spot. Despite this, it is clear that bread has been included in the food of India for thousands of years and from this it reached the surrounding countries through migrants and merchants.
In 'Charakasamhita' Puy, Sattu are described, not bread
Surprisingly, there is a description of Puya, Sattu and its drink in the ancient Ayurvedic text 'Charakasamhita', but there is no direct information about roti. Roti was very popular during the Mughal period. During that time, apart from normal roti, khamiri roti, sheermal, roomali roti were being eaten. In the book 'Ain-i-Akbari' written during Akbar's reign, bread was also included in Akbar's favorite diet. He used to eat roti with ghee and sugar. With the changing times, there have been many types of roti, these include naan, many types of parathas, missi roti, lachha paratha, sweet roti, roomali roti, tandoori roti etc. The condition of roti is that now readymade roti is being available in the markets. Open the packet, heat it and eat it with any vegetable. Bread is liked by the poor and so is the pastime of the rich.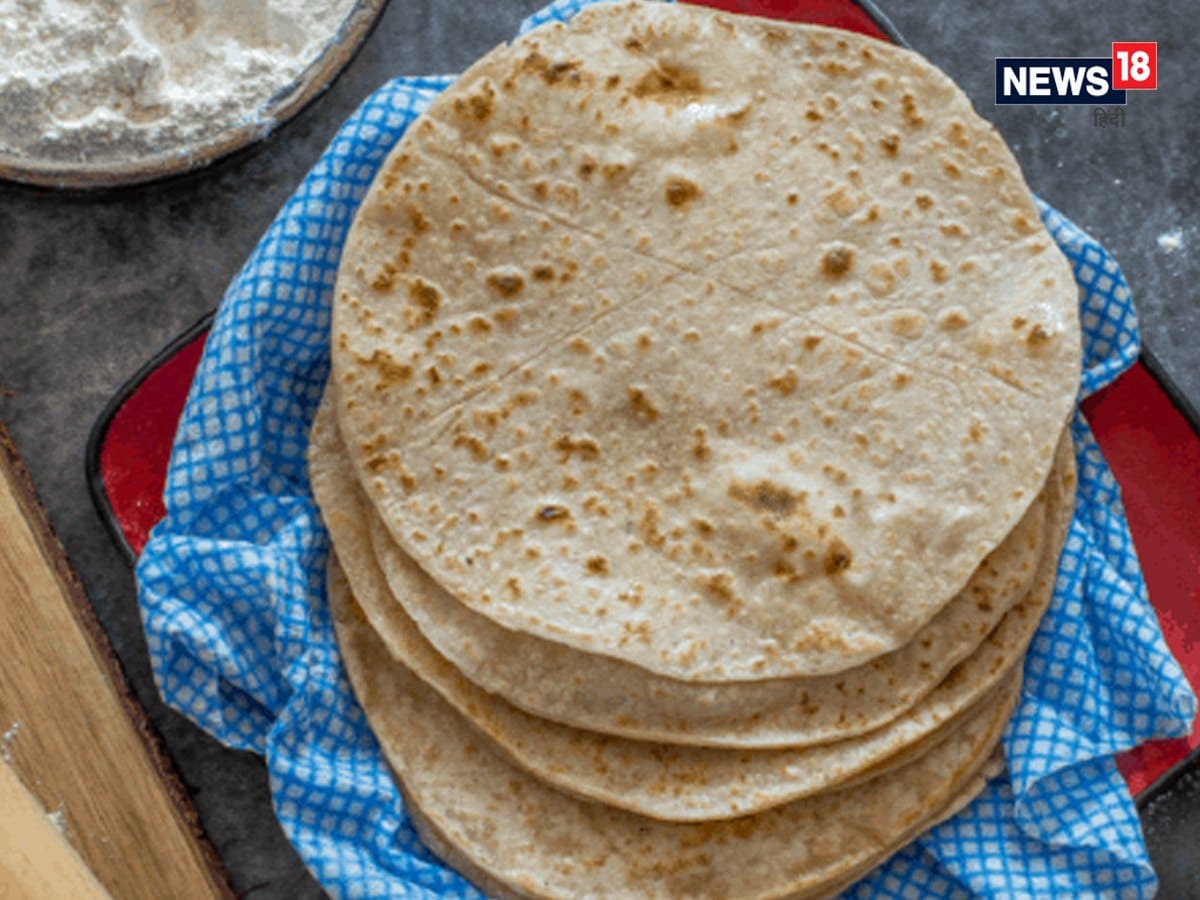 The description of roti is not found in the ancient Ayurvedic text 'Charakasamhita'.
Roti is full of many minerals and vitamins
We would have thought that the properties of roti would be simple, because it is the flour which is being baked on fire, but it is not so. Bread is full of virtues. If we talk about minerals and vitamins, then vitamins B, E including magnesium, phosphorus, potassium, calcium and iron are also found in roti. Being iron, it is considered good for the level of hemoglobin in our blood. Since it is low in calories, it also controls obesity. According to Alka Lamba, dietician of Batra Hospital, roti is beneficial for those with sugar, because the amount of sugar in it is less. Bread is also an antioxidant, which protects the cells of the body from getting damaged. It has fiber which controls cholesterol and keeps the heart healthy. It quenches the appetite, hence keeping it active throughout the day.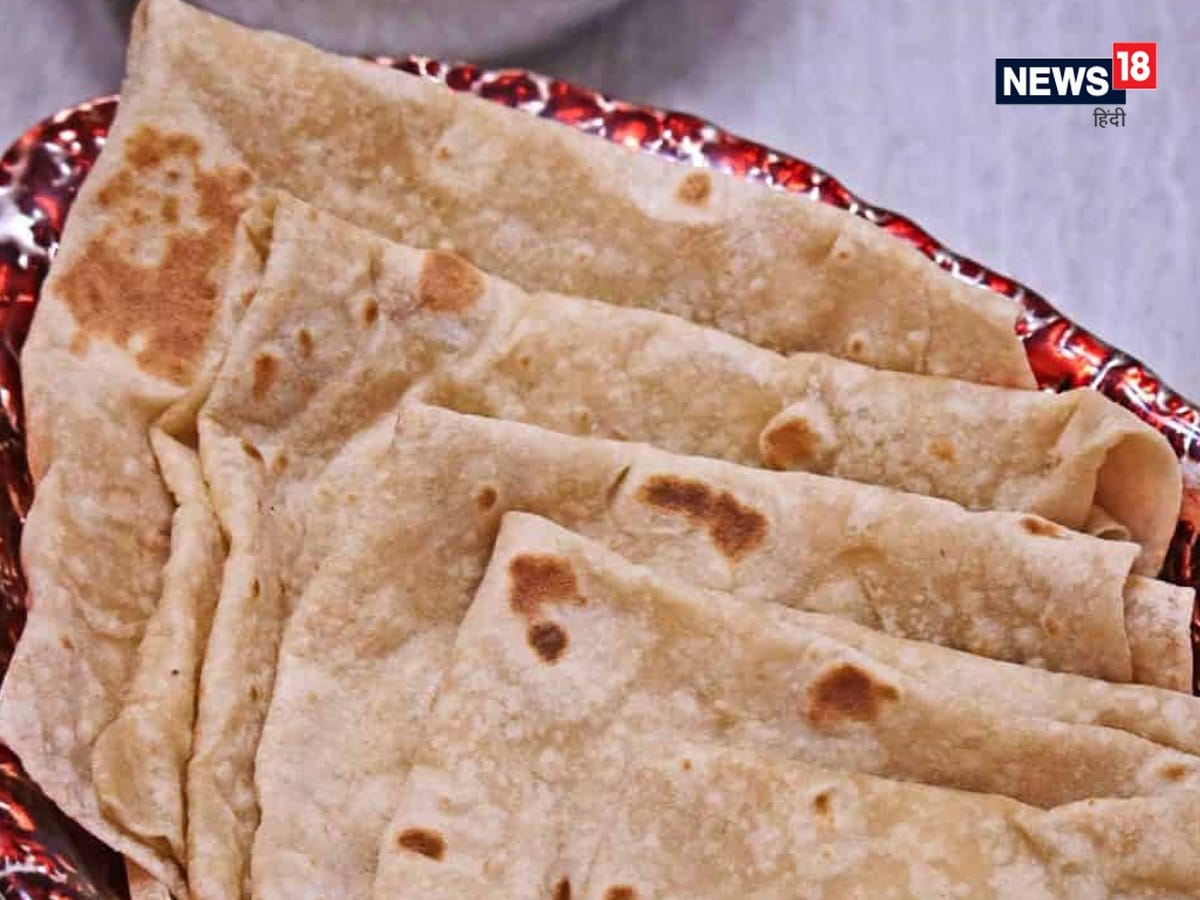 Roti is low in calories, so it also controls obesity.
If you eat more bread, then lethargy and fatigue
Alka Lamba says that wheat also contains zinc, due to which the skin remains shiny. Excess consumption of roti can cause problems for the body. The amount of carbohydrates in roti is high, so excessive consumption leads to fatigue. Laziness also rises in the body. Eat more bread, means weight gain started. Sugar can also increase. But if exercise or walk is being done then the risk can be reduced. By consuming more bread, heat increases in the body, which causes heat. It will also inflate the stomach and will also produce gas. You will feel strange, but after eating roti, the desire to eat sweet increases. Sweet has its disadvantages. Protein is negligible in roti, so it is necessary to have a protein-rich vegetable along with it. If you eat roti in balanced quantity then there is no problem.
Be the first to read breaking news in Hindi News18 Hindi | Today's latest news, live news updates, read the most reliable Hindi news website News18 Hindi |
Tags: food, Lifestyle
FIRST PUBLISHED : July 21, 2022, 09:05 IST