Dharmendra And Asha Parekh starrer superhit film 'Mera Gaon Mera Desh' completed 51 years. Vinod Khanna played the role of villain in this film directed by Raj Khosla. This film and its songs were quite a hit. On the completion of 51 years of this film made on June 25, 1971, Bollywood veteran actor Dharmendra remembered the old days by sharing a video, then many stories related to this film were remembered.
These days there is a buzz about Ranbir Kapoor starrer film 'Shamshera'. There have been many such actors in the film industry who have played the role of dacoits in films. Vinod Khanna was also one such actor who has lived the life of both the screen hero and the villain. 'Mera Gaon Mera Desh' was also shot in the same Chambal Valley, which has been known for hundreds of years as the refuge of notorious bandits. The beautiful ravines of Chambal Valley had dragged Raj Khosla here. 'Mera Gaon Mera Desh' is considered a cult film in the early stages of showing the thrilling stories of dacoits on screen. It is said that the story of Hindi cinema's classic film 'Sholay' is also an extension of this film.
Dharmendra reminds me of the days of 'Mera Gaon Mera Desh'
Dharmendra has worked in many films in his long film journey, but 'Mera Gaon Mera Desh' is very close to his heart. Dharmendra has shown a glimpse of the film by sharing a throwback video on the completion of 51 years of this film. In the video, Dharmendra and his son Bobby Deol are seen talking about the film. In the beginning of the video, Dharmendra is seen speaking dialogues challenging Vinod Khanna, after which he has an interview telling that 'I worked with Vinod Khanna in many films. 'Mera Gaon Mera Desh' was a huge hit. After this, he is seen showing the stunts and telling in the background that I did all my stunts myself, never did I ever resort to duplicates. While Dharam Pa ji's son Bobby Deol is telling that 'Mera Gaon Mera Desh' is one of my dad's favorite films.
Vinod Khanna did not rant on Dharmendra's beating
As Dharmendra himself has told in the video that he used to do every scene himself, did not use duplicates. Dharmendra used to get so engrossed while shooting that he could not even remember that he was doing a film, not really thrashing anyone. Dharmendra told an anecdote related to Vinod Khanna in an interview. Vinod and Dharmendra came together for the first time in this film. In one scene of this film, Dharmendra had to beat Vinod Khanna. The shooting of the scene was done and when the two met in the evening, they were saddened to see that their hands fell so fast while beating in the scene that there was a blue on Vinod's back. Saddened by this, Dharmendra apologized to Vinod, but Vinod laughed it off and did not feel bad. The interesting thing was that even when the scene was being filmed while beating, Vinod did not complain to Dharmendra. It is said that Dharmendra and Vinod became close friends during the making of this film. At the same time, Dharmendra had also helped Vinod in his career on many occasions. Dharmendra was very supportive for Vinod Khanna, while Vinod Khanna also did not consider Dharmendra less than his elder brother.
Mahesh Bhatte was the assistant director in 'Mera Gaon Mera Desh'
Now talk about the director of the film Raj Khosla. Raj is a famous filmmaker and screen writer. Very few people would know that the mentor of renowned filmmaker Mahesh Bhatt is Raj Khosla. When Mahesh Bhatt reached the famous Raj in search of a job for making the best film, Raj not only taught him the nuances of film making but also taught him the information about the right use of music while working with him. Raj Khosla was a master of shooting music scenes in films brilliantly. Mahesh Bhatt acted as an assistant in the film 'Mera Gaon Mera Desh'. A picture from the time of shooting of this film was also shared by Mahesh Bhatt on Twitter and called him his guru.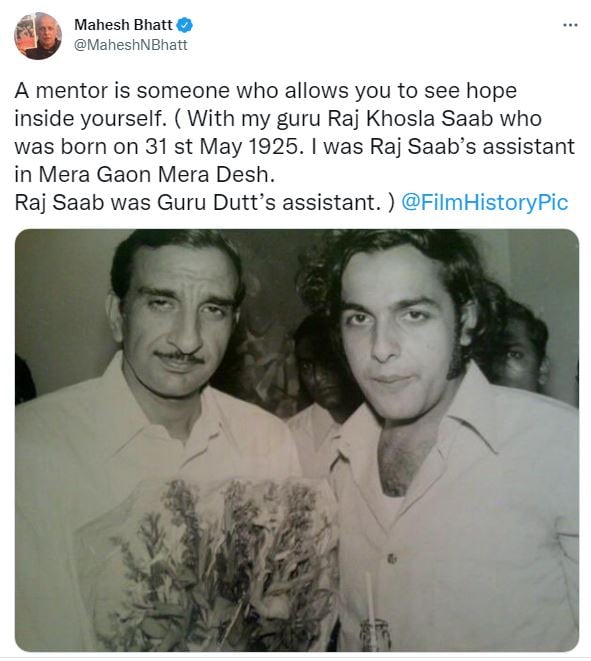 Also read- Bobby Deol's prince Aryaman will also enter Bollywood with Dada Dharmendra! Actor told the truth
Hit Songs like 'Sona Lai Jaa Re', 'Maar Diya Jaye'
Raj Khosla had such a subtle knowledge of music that the films made under his direction are known for their melodious songs along with the story. The songs of the film 'Mera Gaon Mera Desh' also became such tremendous that they are liked even today. The songs written by Anand Bakshi were decorated with the music of Laxmikant-Pyarelal. Some say that this Sawan was sung by Lata Mangeshkar and Mohammad Rafi. So there is no need to tell music lovers about hit songs like 'Sona Lai Jaa Re', 'Maar Diya Jaye'.
Be the first to read breaking news in Hindi News18 Hindi | Today's latest news, live news updates, read most reliable Hindi news website News18 Hindi |
Tags: Dharmendra, Mahesh Bhatt, News18 Hindi Originals, Vinod Khanna
FIRST PUBLISHED : June 28, 2022, 12:28 IST