Highlights
There is a Jain Namkeen Corner shop near Mirza Ghalib's house.
In this shop, 40 types of namkeen are being sold along with lentils.
In India it is not necessary that you eat food only in the morning, afternoon or at night. Our tongue has always been 'Chatori', so there are food options in between. The most popular of these has been that of salty. If you are at home, then you will have to fill different types of namkeen in the boxes and even if you are in the office, most of the people try that there should be namkeen in a few beautiful boxes in the drawer so that the colleague's mouth is salted. The increasing consumption of namkeen has led to the opening of 'specially for namkeen' outlets or big shops in Delhi-NCR. Where a lot of variety and taste of namkeen are seen to be welcome. Today we are taking you to a similar outlet in Old Delhi, which has been making and selling namkeen since years. Where this shop is located, that area itself boasts of 'taste'.
Old Delhi's taste is full of namkeens
The name of this shop is 'Jain Namkeen Corner' and it is in the typical Ballimaran area. This is the same area where the country's famous poet Mirza Ghalib used to live. Mirza Ghalib's house is in the street Qasim Jaan and this shop is at the mouth of Choti Baradari (Gali) a short distance ahead of this street. There is so much variety and taste in this shop that we can say that if this shop was running during the time of Mirza Ghalib, then Mirza Saheb would have tasted the salty of this shop to add color to his evening.
Namkeen itself is being prepared at this shop for years.
It doesn't matter if Mirza sahib has not tasted it, the people of the area are fans of this shop and they keep coming and going here. The reason for this is that there are namkeens filled with the taste of Old Delhi. As soon as you eat it, you will feel that their taste is different from Gujarati Namkeen. The reason for this is that for years, the salty is being prepared by itself and the taste of experience is being poured into it.
Also read: Visit 'Jain Coffee House' in Chavadi Bazar to taste amazing fruit sandwiches, also watch VIDEO
Spices and lentils shortbread is wonderful
First of all, eat the spiced or lentil kachoris here, the heart will become garden-garden. The situation of Dal Wali Kachori is that three days before Mithi Eid, a big pan is put on the furnace here and kachoris are fried in it all the time. Shortbread is sold as soon as it comes down from the pan. People come from far and wide to take them. They say that the taste of Jain sahib's kachoris is different. About 40 types of snacks are being sold in this shop. These include Bhujia of many flavours, Namkeen of many lentils, Lachha, potato chips filled with red chillies, many types of wafers. Everyone's taste is very different and alive. If there are spices too, then they are also mildly spicy or sour-sweet. Eat and pack it and take it home and enjoy with tea.

Apart from salty, bakery items are also special.
This shop also has some Gujarati Namkeen items. Their taste is completely different from the desi namkeen. It is the art of the artisans who make it, that they fill different tastes in them. About 20 types of bakery items are also available at the shop, most of them include biscuits (cookies). These include cumin, coconut, jam, almond, mixed dry fruits etc. Their taste is also excellent.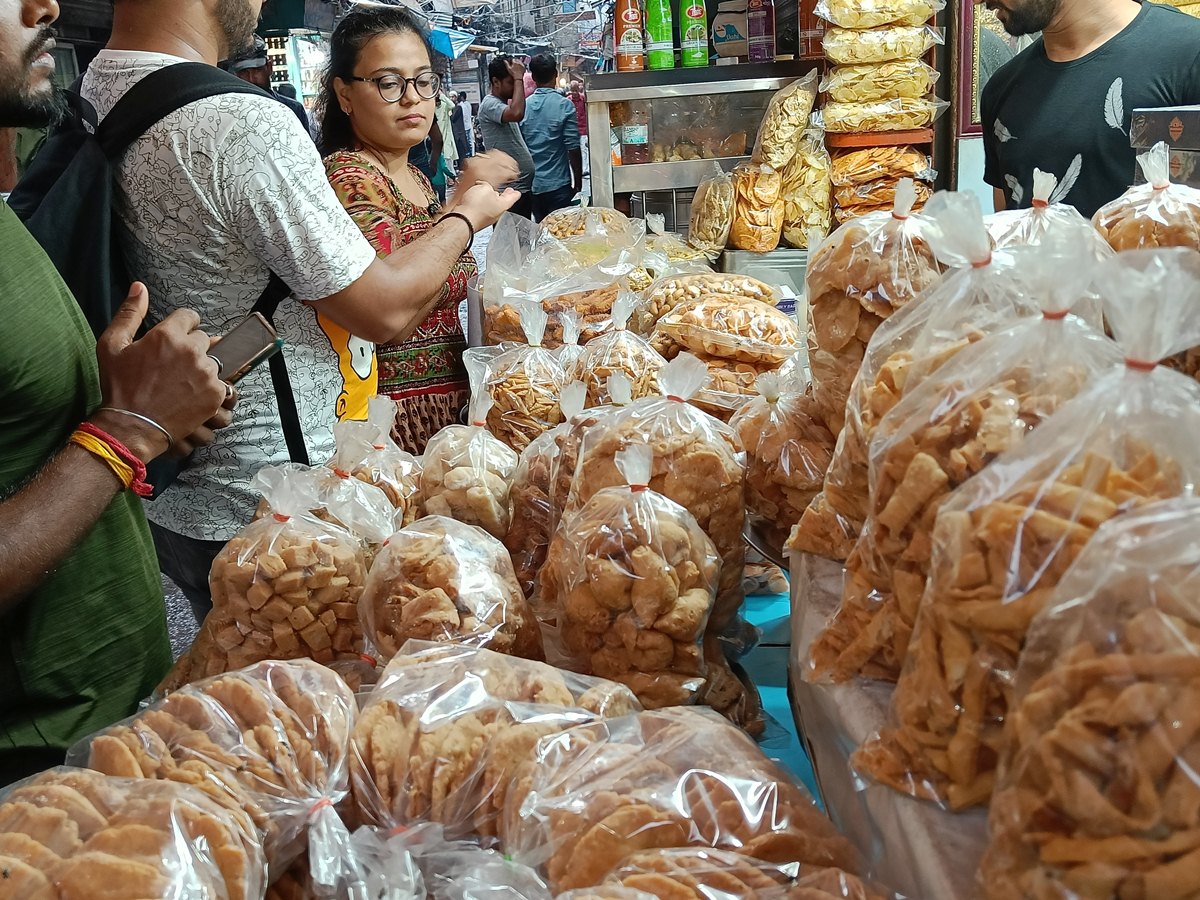 With the arrival of winter, the beauty of this shop increases further.
The price of namkeen and bakery is also not very high. The packet of 200 grams is between Rs 45 to Rs 60, then the packet of 400 grams ranges from Rs 90 to 120. They are also available in the open, you can pack as much as you want. With the arrival of winter, the beauty of this shop increases further. During that time, Gajak, Revdi, Groundnut Patti also start getting fresh and full of taste.
Also read: Taste Aloo Tikkis With Spicy Chole On 'Mithu Tikki Wala' In Shalimar Bagh, Also Watch VIDEO
Getting the taste of salty since 1950
This shop was started in the year 1950 by Lala Suresh Chand Jain. Initially he sold only Kachoris, Namakpare etc. When son Vinod Kumar took over the responsibility of the shop, it started becoming more salty and bikini. Today his sons Vikalp and Ashish are also handling this shop. They say that like we have the third generation in this work, similarly our artisans making salty are also passing on from generation to generation. The biscuits we sell are companies that prepare the rest of the namkeen ourselves. Groundnut and soybean oil are used to make them. All the goods are made fresh and sold. Many families in the area have been tasting our namkeen since years. The shop opens at 8 in the morning and work continues till 10 in the night, there is no holiday.
Nearest Metro Station: Chandni Chowk and Chawri Bazar
Be the first to read breaking news in Hindi News18 Hindi | Today's latest news, live news updates, read the most reliable Hindi news website News18 Hindi |
Tags: Delhi, Food, Lifestyle
FIRST PUBLISHED : July 23, 2022, 09:26 IST